Our friend Amy Christoffers published a lovely new pullover this week that we'd like to bring to your attention.  This is Paper Birch.
It is a raglan pullover worked from the bottom up in the round.  The sleeves are worked in the round to the underarm. Body and sleeves are joined at the yoke and worked with hybrid-raglan shaping on either side of a graduated lace panel.  Seamless construction is such a pleasure to knit!
Paper Birch calls for DK weight yarn. Shown here in Green Mountain Spinnery New Mexico Organic: 6 (7, 8, 8, 9, 10, 11, 12) skeins.  Her pattern's sizing range is generous: 36 (40, 44, 48, 52, 56, 60, 64) inches around chest at underarm; and Amy is wearing the size 40 with 4 inches of positive ease.
We just love the thoughtful detail of the gradually diminishing lace motif.  Those little leaves are a perfect reference to autumn.
Amy's choice of soft neutral shades of our un-dyed organic yarns acts as an ideal wardrobe staple, but we can offer you a wealth of more colorful options among our other DK weight yarns.  You might want to consider casting on with Mewesic.  These skeins' rustic tweed is perfect for evoking the vibrancy of Vermont foliage and twilight walks in the woods.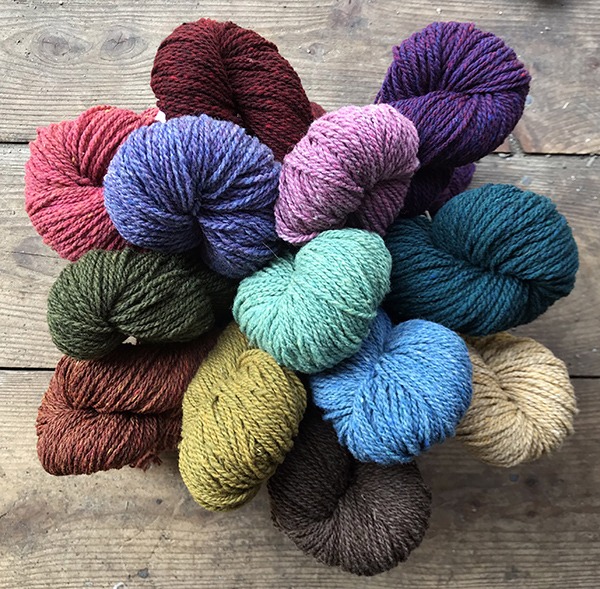 If Paper Birch looks a little familiar to you, it is no wonder.  As Amy shared on her Instagram feed, "there is a strong resemblance between the Paper Birch and the Felix pullover patterns but funny enough I made this one first. Even though they may bare certain resemblances they couldn't be more different in the construction, the fit and of course the yarn. Two different ways to execute the same idea. Isn't knitting amazing??? And yet, the two couldn't be more different."
We couldn't agree more.
Felix's pattern features top-down construction and calls for a heavier Aran weight gauge.
Amy designed it to be the perfect sweater to wear layered over tunics and dresses though she finds it is well suited to high-waisted pants as well. Her thoughtful  suggestion of putting all the stitches on waste yarn and trying the sweater on before beginning the ribbing, will ensure that have a length you will like and will enjoy wearing.
The Felix pattern also features a wide range of sizing: 39 (43 ½, 48, 52 ½, 57) inches around chest at underarm. It is shown in the photo above in size 43 1/3, worn with 7" of positive ease.
The required yardage ranges from 650 (700, 850, 950,1050) yards.  Both of our worsted weight yarns (Mountain Mohair and Weekend Wool) that could work for this pattern are put up at 140 yards per skein.
Larisa and our Ravelry friend Kathy cast on for this pattern without delay last spring, using Green Mountain Spinnery Mountain Mohair.  The soft halo works beautifully to keep those delicate lace eyelets open.  Both are pleased with their finished projects and look forward to adding them into their winter wardrobe this season.
We imagine that you'll agree, these are two terrific sweaters from a delightful Vermont designer that may need to be added (or bumped to the top) to your knitting queue.