This week, our Raverly friend Irene returned to our Mill shop to share a shawl with us that is fresh off her needles.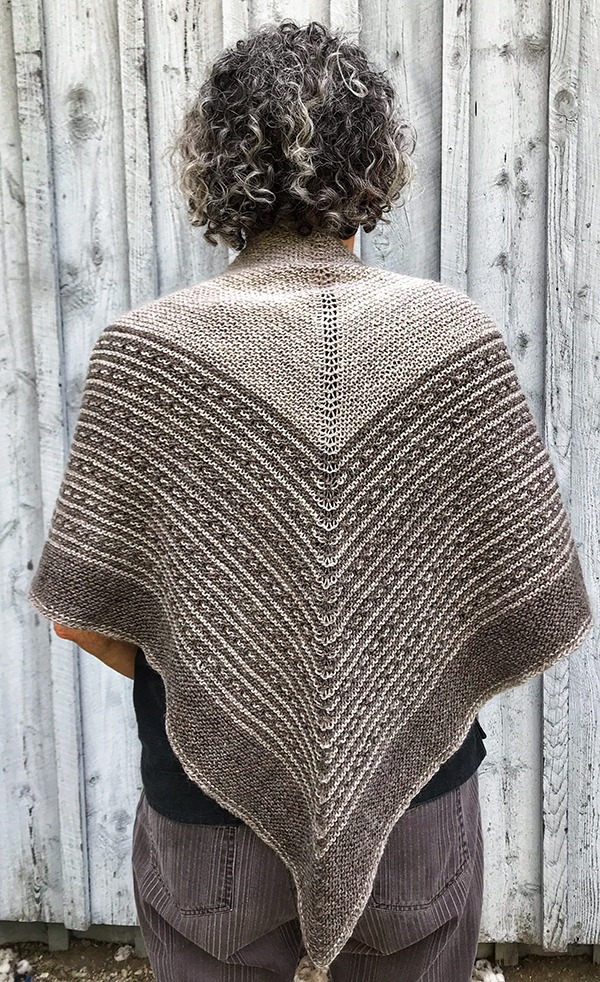 Andromaque is a slipped stitch triangle shawl designed by Marie Adeline Boyer. Irene opted to make a version of the shawl in the soft neutral tones of our Simply Fine Dark and Simply Fine Variegated.  We adore how those shades complement her hair perfectly.
This yarn combines the softest fibers that we work with for Spinnery yarns.  We blend 40% premium kid mohair with 60% Targhee wool to produce a singly ply fingering weight yarn that is as soft and light as a cloud.  Fibers for this yarn are GREENSPUN using vegetable based soaps and oils in the processing and then washed gently to preserve the natural sheen and resilience. This yarn blooms and becomes fuzzier with use.
Can you imagine a more comforting choice for a garter stitch shawl? Squish!
And just as we were getting ready to cast on, we were distracted by this photo that arrived in our inbox.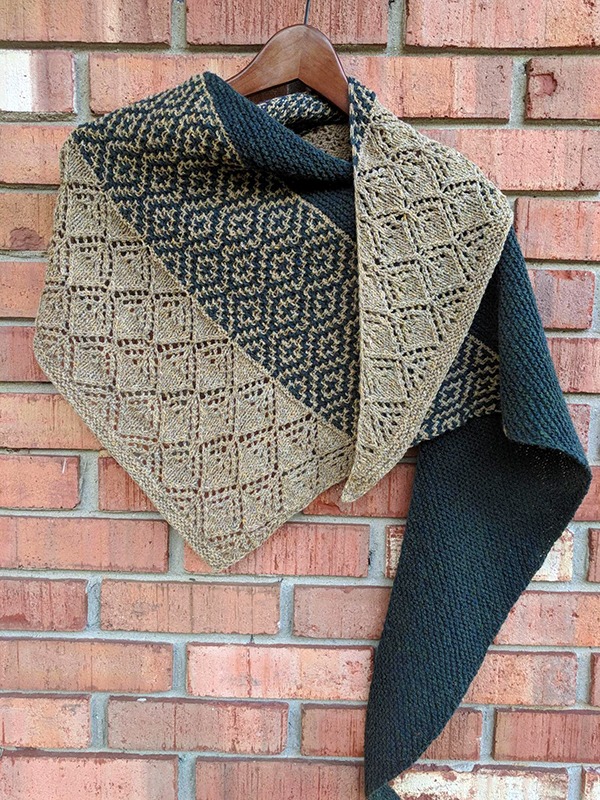 This is Laurelie designed by Lisa Hannes.  This stunning sample can be found at one of the Spinnery's retailers, Rows of Purl in Chester New Jersey.  The crafters at that LYS made this shawl with a single skein each of Spinnery Forest in the Gold colorway and Spinnery Lana in the Noche colorway.  We love how the two work together in that show-stopping mosaic section in the middle.
These two yarns are made with slightly different ingredients: Lana is made from 100% Targhee wool and Forest contains a blend of that wool with 30%  TENCEL® Lyocell.  This is a man made fiber sourced from wood pulp that is similar to its cousin, rayon.  Thanks to the longer fiber length, Forest has a bit of extra luster and stitch definition that makes every detail of that lacework clear.  Since they are both constructed with 2-plies, they work well together allowing each to shine!
So now we're stuck with the happy dilemma of wondering which to start first!