Our Felix-along is humming along, and there is still time for you to get involved.  Our knit-along continues until November 18th; and any project that is in progress at that time is eligible to win our prize!  You can check in on the recent updates to our Ravelry Group.  Folks there are sharing photos and project notes.
Both of Amy Christoffer's Felix patterns are a delight to work up.  They are well crafted for clarity.  Both designs knit up very quickly on large needles for an airy fabric that is comforting, warm and flattering.  Just what you'd want for a new cool weather sweater.
As usual, we like to keep the rules pretty casual, so the only guidelines are …
Knit either the Felix Pullover or Cardigan.
Bonus points for using Mountain Mohair, or other GMS yarns, Amy recommended Weekend Wool, and Green Mountain Green would be a great option as well.
WIPs are allowed, up to 50% done, we know several of you have already started.
Ends on November 18th, because we know you have more than one sweater on your needles, this way you won't feel rushed.
Have Fun!!!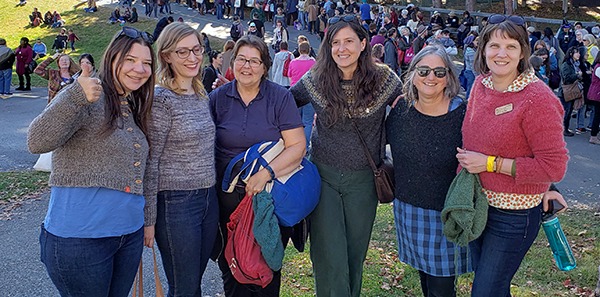 While we were at the New York Sheep & Wool Festival last week, Amy Christoffers (third from the right, wearing her newest design: Lunenburg Pullover) met up with some of the knitters who have finished their sweaters who were at the festival, for a little photo op that you may find inspiring.
Some of the projects that we know are in the works include Larisa's (shown on the right), who is wearing her Partidgeberry Pullover and holding her Felix Cardigan wip in Fern Mountain Mohair.  Maureen is making great progress on her pullover that she is working up with Glacier Lake Mountain Mohair.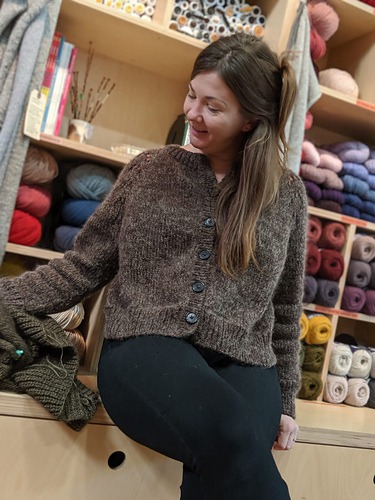 Our Ravelry friend Chelsea from Australia has finished her cardigan and we love how it knit up for her!  We're so thrilled that our knit along has spanned the globe and brought us all closer while working on this terrific pattern designed by Amy Christoffers.
We hope that you join the fun.  We loom forward to seeing what's on your needles in the next few weeks!