A pair of new patterns that call for Spinnery's Mewesic have been published in the past couple of weeks; and we think that you'll want to take a closer look at both.
Fresh from the pages of the newest issue of Taproot Magazine 36: WEAR, is Beatrice Perron Dahlen's Sabellica, shown here modeled by the designer and her younger sister.  On the left is a cropped version made with Brickhouse Mewesic and on the left is a longer version made with Mean Mr. Mustard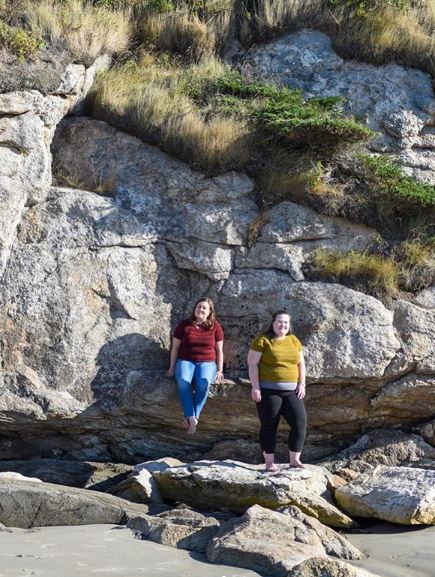 @threadandladleThe design is named for the latin term for kale, one of Beatrice's favorite cooler weather veggies. Sabellica's pattern includes sizes from 30 (33 1/2, 38 1/2, 40 3/4, 48, 50 1/2, 53, 55 1/4, 60, 64 3/4)" /  76 (85.5, 97.5, 103.5, 110, 122, 128, 134.5, 140, 152.5, 164.5) cm and calls for between 4 and 11 skeins of our DK weight yarns depending on the size and length you choose.
Her design has you working the pullover from the top-down, so you'll be able to try it on as you go adding length where you prefer.
On Beatrice's Instagram feed she shares her thoughts about this design.  "Sabellica is knit up in Green Mountain Spinnery Mewesic, and I've already been living in this pullover. It includes a top down construction, a circular yoke with an eyelet pattern throughout. It's great over a long sleeve for functional warmth, but it has options for a long sleeve as well.  Photos by the ever talented Hannah (@mindfulfolk) in one of my favorite Maine places!"
If you're looking for a whole new outfit, and are as comfortable sewing as you are knitting; you could layer this sweater over Ellen Mason's Smith River Tunic (whose pattern is also included in this issue)!
For those of you looking for a great pattern geared towards men, you might agree that Carol Feller's new Corcra Pullover is a winner!
Shown here (with approximately 4 inches of positive ease) in Purple Haze; this top-down sweater features a beautiful textured thermal stitch to create an interesting and wearable knit.   The saddle shoulders and short row set-in sleeves it will fly from your needles!
Carol's pattern includes a broad range of sizes: 38.75 (42, 45.5, 50.5, 54, 57.25, 62.25)" / 98.5 (106.5, 115.5, 128.5, 137, 145.5, 158) cm with a recommendation for 4-5" / 10 – 12.5 cm of positive ease.  It calls for  8 (8, 10, 11, 12, 12, 13) skeins of Spinnery Mewesic, but you could substitute any of our DK yarns such as Alpaca Elegance, Cotton Comfort, or Sylvan Spirit.
While these sweaters may be better suited for 3 season wear here in wintery Vermont, these could be terrific layering options for our friends in warmer parts of the world.  We hope that you agree!