We have a new design for you to consider adding to the top of your queue so that it is ready to wear for Spring.
Cap Sease's Stansfield vest harkens back to Vermont's agricultural past when practical knitwear needed to transition from town to field and back. The rugged texture of this lightweight layering piece is created with a simple repetition of knits and purls, rendering a lofty fabric that is an instant classic.  (While we have shown it here modeled only by men, this pattern is intended to be unisex and will be equally useful and appealling for women.)
This pattern features bottom-up construction that is worked flat up to the armholes.  The two front sections and back are worked separately until they are joined at the shoulder with classic three needle bind off.  The piece is finished with a garter stitch border at the armholes and along the neck, where button holes are placed evenly along the placket.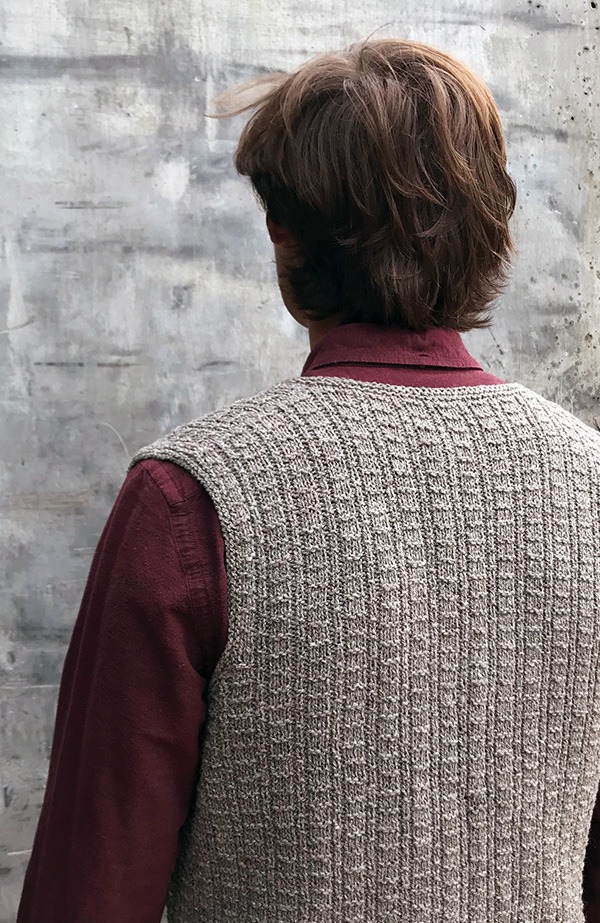 Designed to be worked with our fingering weight yarns, this vest will make an ideal lightweight layering piece that could work equally well for him or her.  Cap's pattern includes sizing from 34 (38, 41, 46, 50, 54, 58, 62)"/ 86 (97, 104, 117, 127, 137, 147, 157) cm and calls for 3 (4, 4, 4, 5, 5, 5, 6) skeins Lana, Meadow or Forest (400 yds each).  It is shown here in Plateada Lana.
You might also want to consider working with our Moorit Singles or Simply Fine skeins that are put up at a more generous 450 yards per skein for the three undyed colors. Our Simply Fine Skinnies are put up at 224 yards per skein and would allow you a larger palette of fresh spring-like colors to consider.
We hope that you enjoy this little preview of Spring.  It will be here before we know it!