Today, we'd like to introduce you to our friend Patricia Fortinsky of Tidal Yarns.  She is a natural dyer who is making locally sourced yarn in southern Connecticut.
For those of you who have been fortunate enough to attend nearby Fiber Festivals and Farmers' Markets, you may already be familiar with her booth that is a haven of muted earthy tones.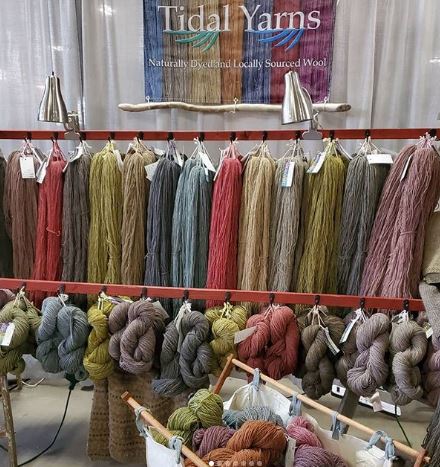 Patricia has worked hard to create a network that enables her to produce a uniquely local product.  In addition to finding a nearby printer for her labels and patterns, Patricia has developed relationships with several New England Shepherds.
Several times a year, she visits fiber growers in upstate New York, Massachusetts and near her home in Connecticut, filling her trusty mini van with fleeces.  Here you can see a photo taken of Mary and Bob Pratt at Elihu Farm, near Albany, New York.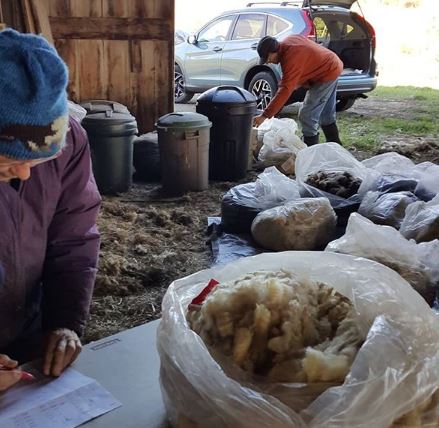 Her round trip includes a delivery to the Mill, to drop off this beautiful wool for us to spin into glorious 2-ply yarn at a fingering weight and a worsted weight.  Her visits are always an occasion for joy.  Her infectious laughter makes sorting her fiber into a fun project that we look forward to.
Every batch of yarn that we make for her is a little different based on the fleeces she finds. But typically it is a soft dove grey in color that she then over-dyes with natural botanicals that she grows in her garden and forages on walks through the countryside and along the shore near her home.  She also utilizes natural extracts mixed with her natural ingredients to expand the range of her palette.  The additional depth of color that results from the hints of grey in her yarn creates a tweedy look that makes her yarn irresistible.
Her skeins are tagged with the plants she used to create each color.  Browsing through her skeins is almost like walking through her garden. You'll find names like marigold, madder root; and it is a pleasure to imagine the lush beds that are the source of these shades.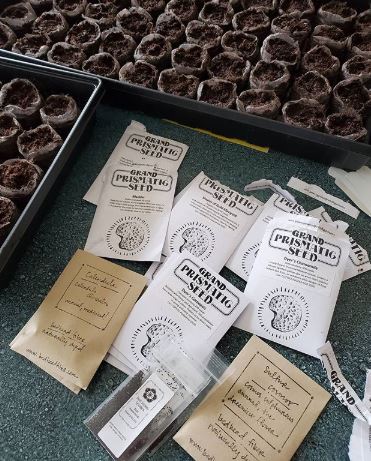 While her yarns can be worked up into almost anything your heart desires, we are particularly smitten with the designs that Patricia generously offers as project kits with her skeins.  These pullovers and cardigans are classic, comfy sweaters, designed by Deb Parcella to be worn with a great deal of positive ease.  Their raglan construction ensures a proper fit at the shoulders with a boxy structure that flatters a wide range of figures, and is ideal for layering.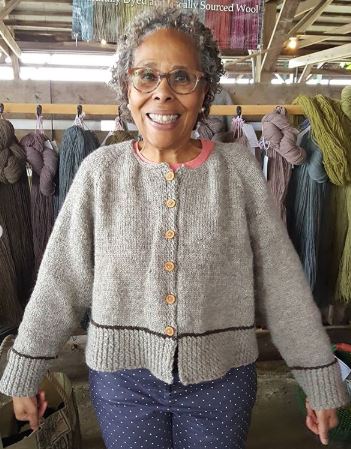 It can be a delight to see happy knitters return to Patricia's booth wearing their Tidal Yarn garments with pride.  Confessions that their cardigan is a new favorite, and rarely taken off, are a regular occurrence!  These makers return to purchase more of Patricia's yarns for wardrobe staple garments that we know you'll treasure as much as we do.
Since Fiber Festivals and Farmer's Markets may not be available to us for several weeks if not months, Patricia is sharing her weekly yarn updates with her Instagram followers.  On Tuesdays and Fridays, you'll find new posts with photos of her newly dyed skeins along with a pattern suggestion or two.  We encourage you to follow her Tidal Yarn Instagram account, so that you'll have access to these updates.
We hope that you have a chance to get Particia's yarn on your needles this season.  We know that you'll enjoy the experience as much as your newly finished sweater!