We have all found solace in the smooth repetition to be found in knitting.  And this week, many of us that the Spinnery have spent more hours than usual working on our projects, or enjoying the time that we are carving out to craft; seeking the calm to be found in following a pattern and enjoying the feel of wool running through our fingers.
We thought we'd share some of our WIPs (works in progress) with you.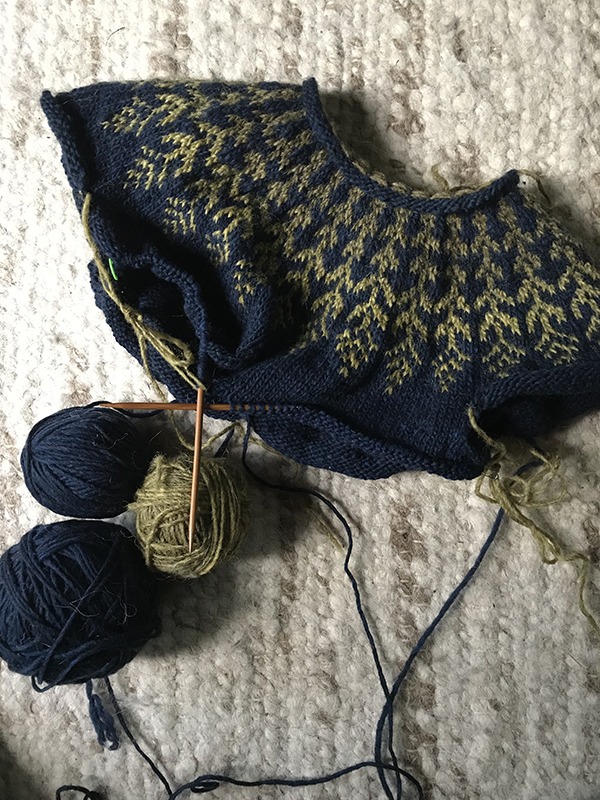 Lauren is working her way through the gorgeous yoke of her Fern & Feather sweater designed by Jennifer Steingass.  She is working with Mountain Mohair in the Maritime color as her background and a similar single ply yarn that we spun for Blue Heron Farm that was dyed with natural botanicals. The contrast of these shades is so crisp and classic.  It makes her stranding work look like a million dollars!
Larisa is also participating in Must Love Yarn's Knit Along that has it's participants all working on designs of Jennifer Steingass.  She has cast on for the Goldwing pattern using two high contrast colors of Spinnery Mewesic: Atlantis and Touch of Grey.
Both of these sweaters are worked top-down giving you the opportunity to enjoy the fun of the stranded color work yoke as you start the project.  Once you've worked through the yoke and divided your stitches for the body and arms, you can easily try on your sweater and make modifications to the fit as you go.  Sleeves length can be adjusted and shaping could be added to the body to your preference.
For those of you who have cast on for this KnitAlong, or if you'd like to join in now; the next virtual meetup for the group is scheduled for next Thursday June 11th, from  7 – 9 pm.  Using your browser or phone, head to https://zoom.us/join and use the Zoom Meeting ID: 868 1585 3166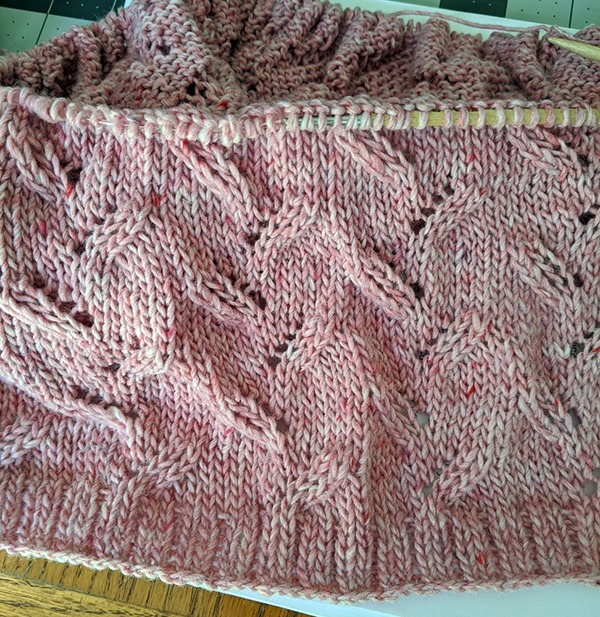 Maureen is making a long awaited sweater that will be the perfect addition to her wardrobe.  She is making a gorgeous version of the Green Leaf Pullover to be found among the pages of At the Spinnery.  Maureen often fashions patterns that she wants to wear herself, but the sample that is created as part of her design process is typically used for photography and travels with us to shows.  This beauty will be one that she can keep and enjoy for herself!
She's cast on with Rose Quartz Sylvan Spirit, an ideal shade for spring and summer wear.  She's often remarked that this yarn is her favorite among the Spinnery collection.  She's used it for many projects that she enjoys, including a Calyx designed by Elizabeth Doherty and two of her own designs: the Windsor Tank and the Seeded Pullover.
We look forward to learning about what projects have been bringing you comfort.  Please share them with us on Instagram with the hashtag #greenmtnspinnery or #gmswip.  Be well, stay safe, and keep knitting!