My grandmother lived through the depression and took that phrase to heart.  We here at the Spinnery, aspire to waste as little as possible in our production process, to ensure that every ounce of fiber that was grown, shorn and delivered to us with care is put to its highest use.
We capture the leftover scraps of wool and spun roving from every batch of yarn, and save it for future use.  Each lot of custom yarn generates its own small bag that is either returned with the finished yarn, or popped into storage here at the Mill to be added to the next batch of yarn we'll make for that producer.
The leftovers from all of the Spinnery yarns that we spin is separated out into two categories.  Usable waste fiber from the mill floor and weight rolls is gathered in giant $5 bags and sold on a first come first served basis.  We've had customers use this fiber for crafting, felting and even as a natural insulation for their home!
The cleanest fiber that remains from our production process is saved and re-carded into our bulky Yarn Over.  Each dye lot of this yarn is truly unique.  It includes a differing combination of fibers and colors that has accumulated from our most recent batches of yarns.  We occasionally supplement this mix with some additional bale dyed wool to create a more appealing shade.  Our most recent colorway, Ember (shown on the left), even includes a subtle variegation of shades that can be found among the dying ashes of a comforting campfire.
We thought we'd highlight this warm yarn this week, and share with you some terrific pattern suggestions that make great use of it.  Now that the weather is turning cooler, bulkier knits are going to be more in demand.
Earlier this year, our friend Denise Bayron published the Wave of Change Jacket.  This jacket gets its name from the purl ridges that create concentric rings around the body. Denise's pattern includes a generous range of sizes: 36 (40, 45, 50.5, 54, 58.5, 63) " or 91.5 (101.5, 114.5, 128.5, 137, 148.5, 160) cm: and calls for 4 (5, 5, 6, 6, 7, 8) skeins.
This yarn has also been used in some of our most popular patterns.   From largest to smallest is a collection of some of our most recent favorites!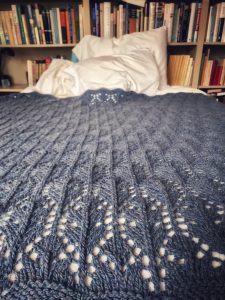 Thistledown Throw.  We hope that this bulky throw that features a botanical thistle lace will bring you sweet dreams, whether it's used for an afternoon nap or a good night's sleep.  This pattern creates a blanket that measures 53"/134.5 cm wide x 54"/137 cm long, (after blocking) and is created with 10 skeins.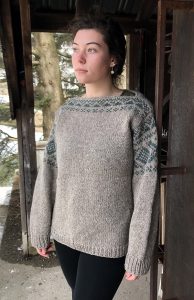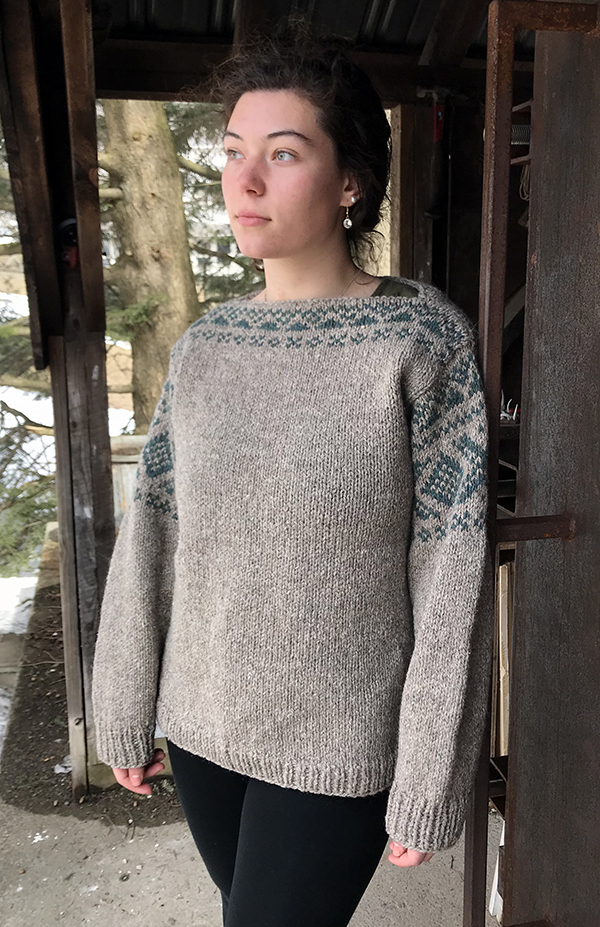 John's Sweater.  This sweater is based on a well loved sweater Cap's father wore for years. The boat neck allows for layering to make this a perfect sweater for your winter outdoor activities.  Cap's pattern includes sizing that ranges from 37 (40, 44, 48, 52, 56)"/ 93 (101, 111, 121, 132, 142)cm and calls for 6 (7, 8, 9, 10, 11) skeins (MC) and 1 (1, 1, 2, 2, 2 ) skeins (CC).
Beekeeper's Smock.   This pullover has been designed to provide you with a hard-wearing outer layer that is as comfortable as it is practical. Pop it on as you head out for errands, chores and cool weather excursions this season and many to come.  The pattern has two sizes: approximately 50 & 60"/ 127 & 152.4cm (designed to fit with 11-15"/ 27 -38 cm of positive ease) and can be made with 5 or 6 skeins.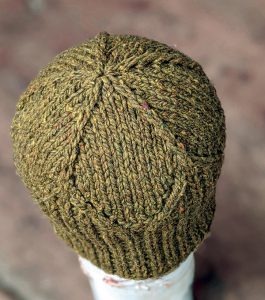 Gathering Hat.  This FREE pattern creates a hefty hat that can protect from brisk winds and cold ears, giving us a bit more time outdoors to enjoy the best of the season.  The pattern creates an adult cap that fits most – Circumference: 18" x Depth: 8½; (after blocking) and is created with a single skein.
You'll find even more great pattern suggestions by browsing through the 150 projects listed on Ravelry that were created with our Yarn Over.