Kate's favorite felted slipper pattern is the classic 19 row Duffers Revisited designed by Mindie Tallack.  This quick knit design has instructions for 6 adult sizes and variations for standard, wide and extra wide.  Best of all, a pair can knit up in a single afternoon.
She cast on for her first pair last week thinking that felted slippers might be a perfect project for our deeply discounted irregular skeins.  Any thick/thin or slubby sections in the yarn would be balanced out by double or triple stranding, and the felted fabric would completely disguise any irregularities.  She expected our 50/50 blend of wool and alpaca to behave much like the wool/mohair yarn she has used in the past to make these slippers.
She cast on for a slipper that was much larger than the finished measurements she was looking for, anticipating that the slipper would shrink dramatically in the felting process.  Using a size US 11 needle she cast on 72 stitches and double stranded Weekend Wool for the slipper's base, then using the Navaho or Chain plying technique, she triple stranded Alpaca Elegance for the top of the slipper.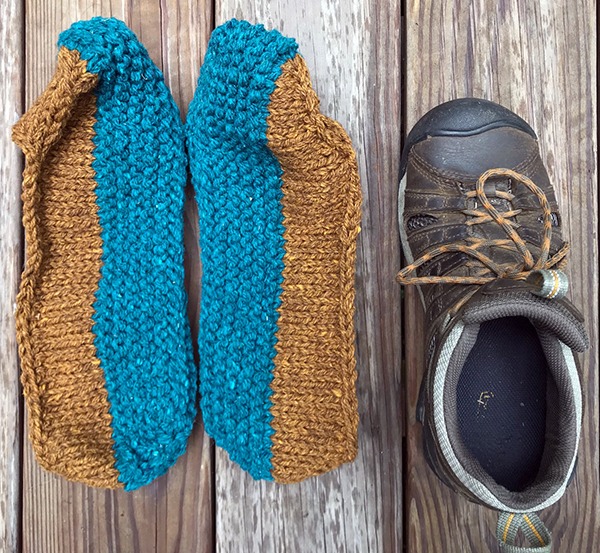 When she popped the slippers into our top-loading washer with several tennis balls and a towel (for extra friction).  She allowed the slippers to agitate for about 20-30 minutes but found that they hadn't shrunk as significantly as she needed them to, in order to fit.  Over 60 minutes of agitation finally resulted in what she was looking for!  By that time, the alpaca fiber in the yarn had been pulled out of the fabric to create a super fuzzy effect that almost obscurs the color of the yarn.  As you'll see below, it's adorable!
In the interest of experimentation, she opted to try again.  For her second pair of slippers she used the same yarn but reduced her cast on count and needle size (64 stitches on a US 9 for a denser fabric) and created a slipper that fit her foot with a bit of comfortable stretch before felting.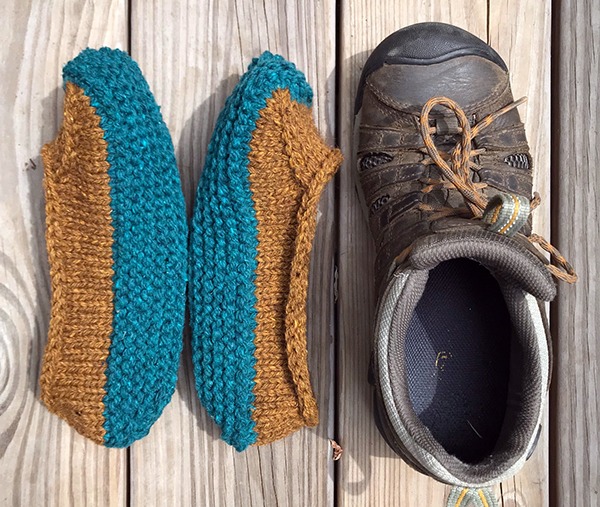 After just 15 minutes of agitation, she had a second pair of slippers that fit just like Cinderella's.  You can see the two different slippers side by side below.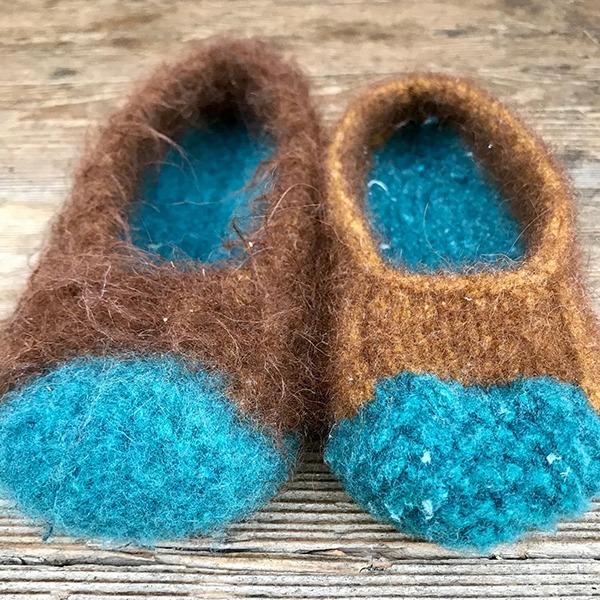 Since the alpaca and wool blend doesn't willingly shrink, she found that she was able to make her second pair of slippers with less yarn (by making it to fit she needed just a single skein of each yarn for the pair) and it involved much less of the mysterious guesswork inherent to felting.
It can be hard to anticipate just how much your project will shrink, so vigilance during the agitation process is needed to catch the item from shrinking too much.
We are offering our irregular felting yarns at steep discounts for visitors to the Mill while the I-91 Shop Hop is progressing this week.  You'll find Kate's Duffers as well as some other beautiful felted samples that we hope will inspire you to experiment with these yarns yourself.  If you're not able to visit us while the yarn crawl is under way, you'll be able to find any remaining skeins among our SALE ITEMS on our website after the 21st!