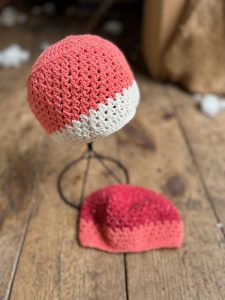 We want to offer a hearty thank you to all of the folks who visited the Mill over the past couple of weeks for the I-91 Shop Hop. We really enjoyed meeting new friends, offering them tours of the Production Floor and sharing this new pattern.
We'd like to introduce you to our latest FREE pattern: the Stash Buster Crochet Hat designed by Maureen.
How can a hat act as a scrapbook of your favorite finished projects? Use up yarn remainders of finished projects to create a one-of-a-kind striped beanie! With this fun pattern, you can design a warming hat of various sizes. And you can declutter your crafting space for new skeins that will become new treasures in the months to come.
Thanks to it's top-down construction, you can customize your hat to fit any head. Work the pattern's increases until you reach the appropriate circumference and then work to the depth of your choice!
The pattern is designed for our DK weight yarns and will require a bit more than a single skein for a large adult hat. We imagine that you could create a personalized stripe sequence with some of your leftover yarns that can offer a fun reminder of your recently finished projects!
Pictured in: Salmon and Unbleached White and Red and Salmon Cotton Comfort.