When we first spun and plied our Vermont Organic yarn we knew that we had a winner.  Maureen and Kate took a dozen skeins with them to Squam in June and our friend Amy Christoffers was among those who couldn't resist these skeins.  She buried her nose in a handful of this yarn and told us with a huge grin that they smelled like home.
Amy has spent the summer crafting a stunning cardigan with her yarn.  We'd like to introduce you to Coolidge.
Amy has married moss stitch texturing with an ephemeral leafy lace that looks a bit like an angel's wings.  And the yarn makes every stitch crisp and clear.
This is a sweater that love has built.  All of that detail is breathtaking.  It will be a showstopper that would clearly identify you as a maker who loves the craft.  Amy's clear and concise pattern is very straightforward and a pleasure to follow.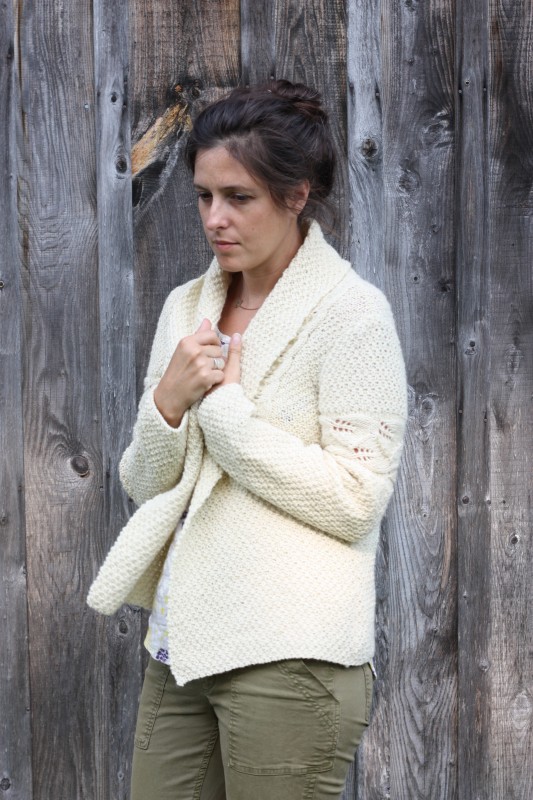 Maureen is working on a version of her own with Spinnery Weekend Wool in pumpkin.  She knew that for her, a sweater with a bit of color would get much more wear and we can't wait to see this new addition to her winter wardrobe. (photos will be shared on Facebook as soon as possible).
We hope that you find Coolidge as inspiring and beautiful as we do.  Let us know if we can help find the perfect yarn for yours.