An important part of the pattern design process is test knitting the garment in question.  We like to create a version (and sometimes two) of each pattern to ensure the different knitters can follow the pattern's instructions with varying materials and achieve success!  A happy by-product of all of that knitting, is a shop full of samples in various sizes that show off our designs.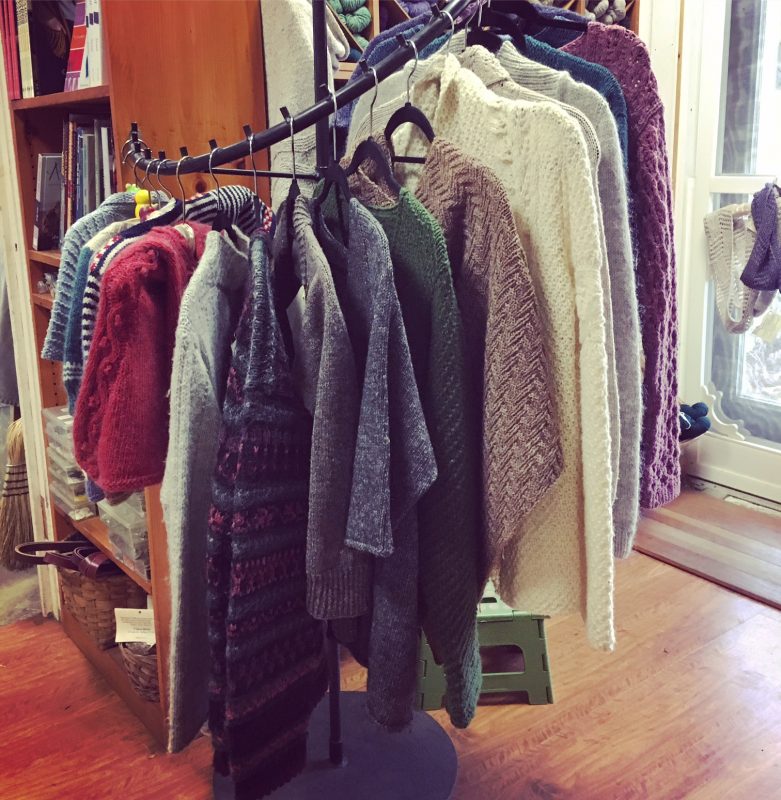 Crafters love getting a chance to see how our patterns knit up and feel the fabrics made from our yarns.  They can examine a piece from all angles, getting to know the garment in greater detail than the photos included in the pattern or on Ravelry can illustrate.
Visitors who don't knit are often curious about these pieces of knitwear, and are crestfallen to find that they are not available for sale.  But that will change for a few days next weekend.
Once a year, for the Putney Craft Tour, we select a few samples and other test knits and offer them for sale. Our test knitters and designers have collected some stunning garments and accessories that will be available for visitors to purchase Friday November 25th – Sunday November 27th.
You'll find:
Hats – $25
Cowls – $35
Shawls/Wraps – $40
Vests – $50
Sweaters – $60
Kate's sample of her Yosemite Blanket is a queen-sized work of love.  This hand-knit garter stitch blanket was created with over 3,100 yards of un-dyed natural wool in three beautiful shades.  It is priced at $250 and all of the proceeds from the sale of this blanket will go to benefit the Putney Food Shelf.
We hope that all of these beauties find new homes next weekend, and hope that you can be among the lucky few who gets a chance to snap them up!