Cap Sease's Tekle sweater is one of last year's most popular sweater patterns.  This cardigan is knit from the bottom up and features a rich textured stitch pattern achieved by alternating knits and purls.  This subtle design catches the light and makes the finished sweater look far more sophisticated and complex than it is to create!
We've found that mill visitors often comment on the sample we have in the shop, and wonder aloud how one would wear a cardigan that doesn't have buttons.  Our scourer Meghan popped it on this week and we followed her on her various adventures to see how practically the sweater wears in real life.
The pattern calls for a DK weight yarn and that knits up with our Blue Bayou Mewesic (as seen here) into a lightweight layer that is perfectly suited to shoulder season use.  As early summer (and late fall) temperatures swing from dawn and dusk lows to mid-day highs, or even when a partially cloudy day has you alternately warm and cool, Tekle can be tossed over your shoulders to keep you comfortable.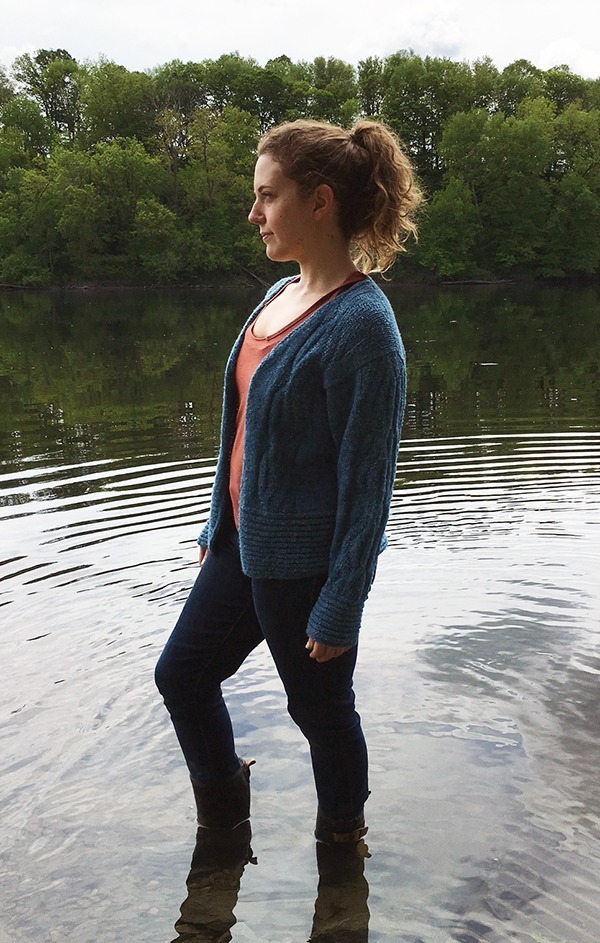 Meghan found that she reached for it to warm her for an after work canoe launch on the Connecticut River and as an extra layer for a walk along a country road to gather flowers at lunch time.
It is perfect to have handy in the back of the car to throw on in anticipation of cooler air-conditioned spaces like a movie theater, an office or the produce section.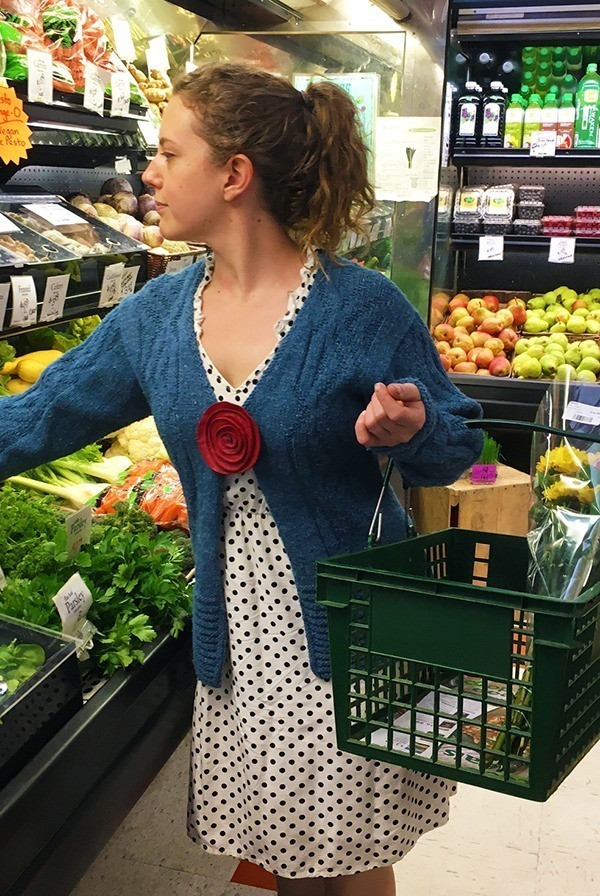 Adding a fun pin or broach to pin it closed can dress it up, add a bright pop of color, and change the silhouette of the sweater to a more figure flattering and feminine one. Layering your sweater like this can also allow you more wear of your favorite sundresses that might be too cool to wear comfortably except in the height of summer.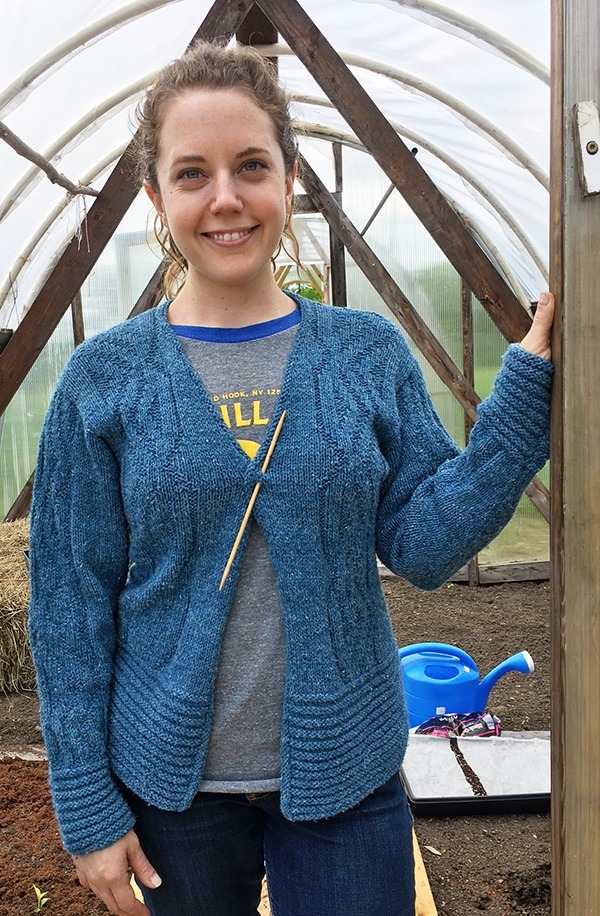 Meghan has been known to grab whatever is handy to act as an impromptu closure.  Who among us doesn't have a convenient dpn on hand in a pinch?
We love the idea of enjoying hand knits every day. The recommended hand washing of our knitwear shouldn't relegate your sweaters to the closet only to be worn for special occasions.  Tekle is as perfectly suited to the greenhouse as it is to the coffee house.  Loose soil can be brushed off. Stickier mud can be allowed to dry before a similar treatment, and spot washing with gentle detergent is always an option.
We hope that you'll get more wear out of your favorite hand knits before summer's heat motivates us to put them away until Fall.  And take another look at Cap's Tekle cardigan.  You may find it as appealing  and useful as Meghan does!