We had a few sweltering days here in Vermont last week that gave us a preview of the upcoming weeks' heat.  When temperatures rise, we knitters tend to gravitate towards lighter yarns, different fiber blends or cooler gathering spaces so that we can continue to work with the wooly yarns we love.  None of us enjoy a lapful of  warmth when its hot and sticky.
If you find yourself feeling too hot to want to work on your woolens, you may also want to consider putting your project down and reading about the craft instead of doing it!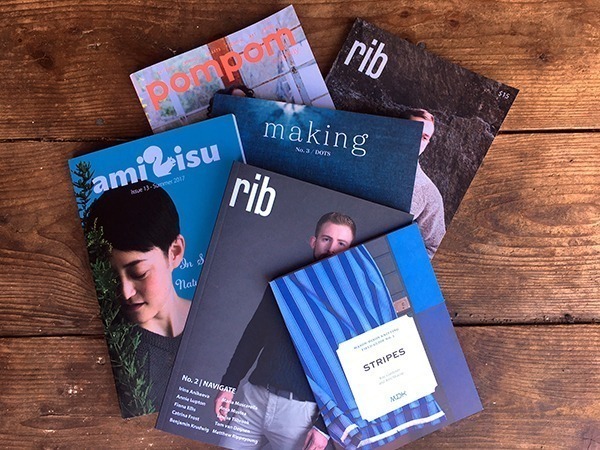 We've received a stack of delightful new crafting magazines that have us eager to find a shady spot, enjoy an icy beverage and crack open these covers to learn something new.
The newest issue of Amirisu focuses on the search for natural colors providing a couple of articles and interviews about natural dying yarns and fabric with plants ranging from the familiar indigo to the deep reds made possible with safflower.  The magazine also includes 8 new patterns that are perfectly suited to summer knitting and crocheting.
The second issue of rib magazine arrived in the shop just a few days ago and we are delighted with the wealth of patterns for men included among its pages.  But the two thoughtful essays included in this issue are just as appealing.  Tom Van Deijnen's well illustrated how to article provides detailed instructions on visible repair techniques.  Holes and snags can be easily repaired, and your handiwork will embellish your knitwear with a beautiful reminder of how life's snags can sometimes create result in unexpected beauty.
Carrie Bostick Hoge's newest collaboration in Making No. 3 Dots has gathered a stunning array of patterns, recipes, and projects that may inspire you to branch out and experiment with embroidery, needle felting, sewing, weaving or crochet.  You could imagine yourself at summer camp and give yourself a few days to  play with new techniques!
We invite you to browse among our magazine selection and find an issue or two that you could enjoy paging through.  Perhaps there are a few leisurely hours in a hammock ahead of you in the weeks to come with a good read.  Your works in progress will wait on the needles until it is cool enough to work on them comfortably!