Our flurry of new patterns has developed into a storm this week with the release of four new cowl patterns for you to enjoy.  These four infinity scarves were designed for our 2017 Cowl Club members.  Each is named after a ski resort in Vermont and all featured different Spinnery yarns.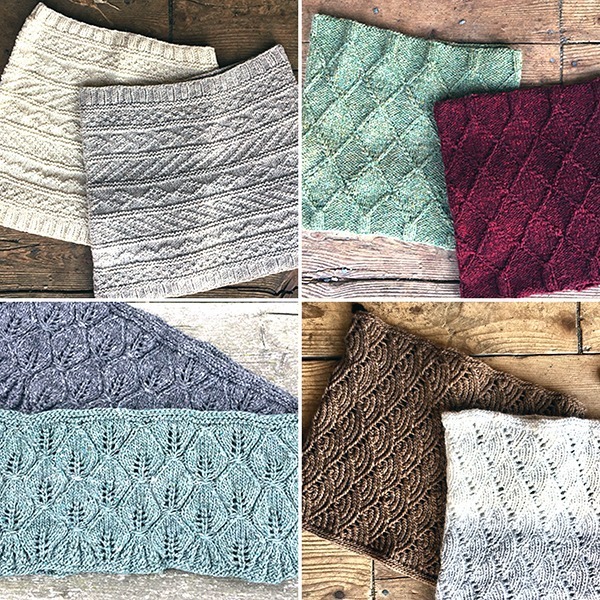 Now that registration for our 2018 Mystery Project Club has closed, we can release these four patterns that were exclusively available to our 2017 Cowl club members, up until now.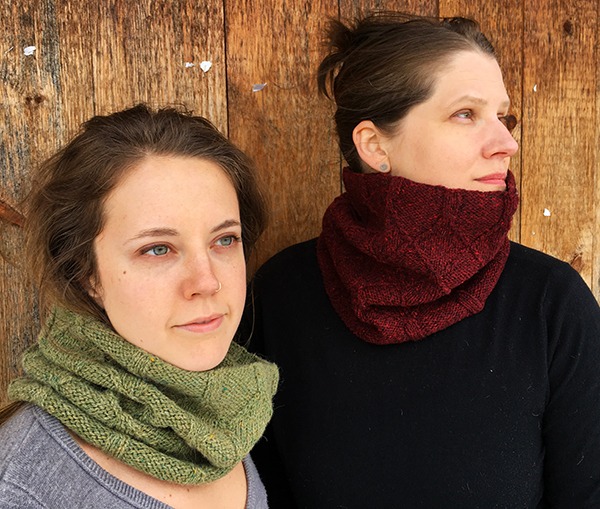 First up is the Okemo Cowl designed by Larisa Demos.  The diamond and double diamond alpine trails of Okemo Mountain are categorized as expert and most difficult; but this beautiful cowl is covered in diamonds that can be easily mastered by intermediate knitters.
Fun cables and alternating panels of knits and purls create a pleasing overall texture that will circle your neck with feather light and yet cozy comfort.
Shown here in Dragonwell Alpaca Elegance and Brickouse Mewesic.
Our second project was Cap Sease's Mad River Cowl.  The Mad River Glen ski resort is America's only skier owned mountain. Their cooperative is organized a bit differently than ours, but the synergy between the philosophies that drive us both make Mad River one of our favorite Vermont attractions, even during the summer months.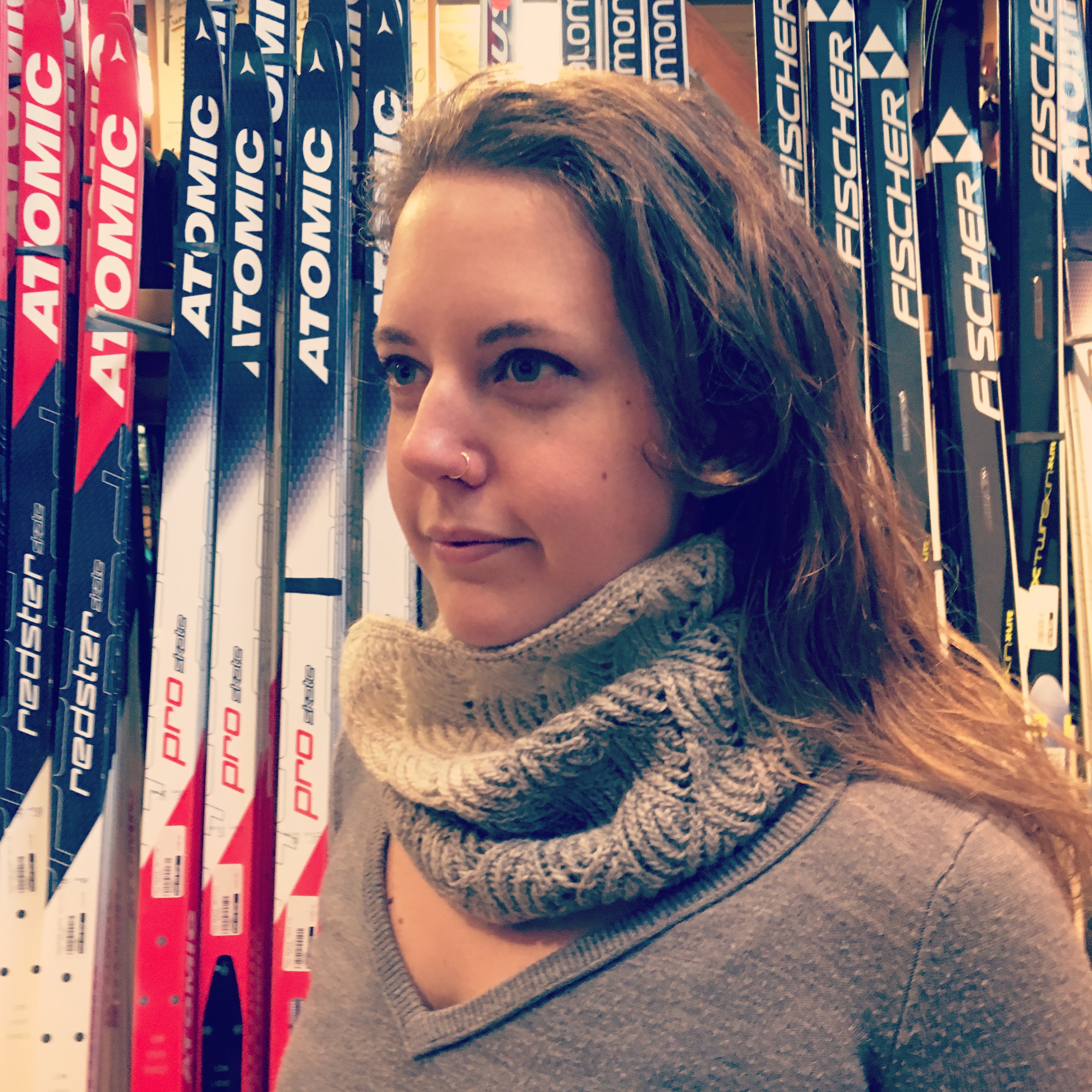 The pattern stitch on this cowl mimics river water as it rushes and eddies around rocks and is ruffled by the breeze in still pools.  Shown here in the Variegated Simply Fine, and at the top of the pagein the Moorit Singles.
Our third project was released in the middle of summer, when cozy cowls are a delight to make but not to wear.  Maureen Clark's Killington Cowl has a larger circumference for a stylish fit that will be a stunning hand knit complement to any outfit.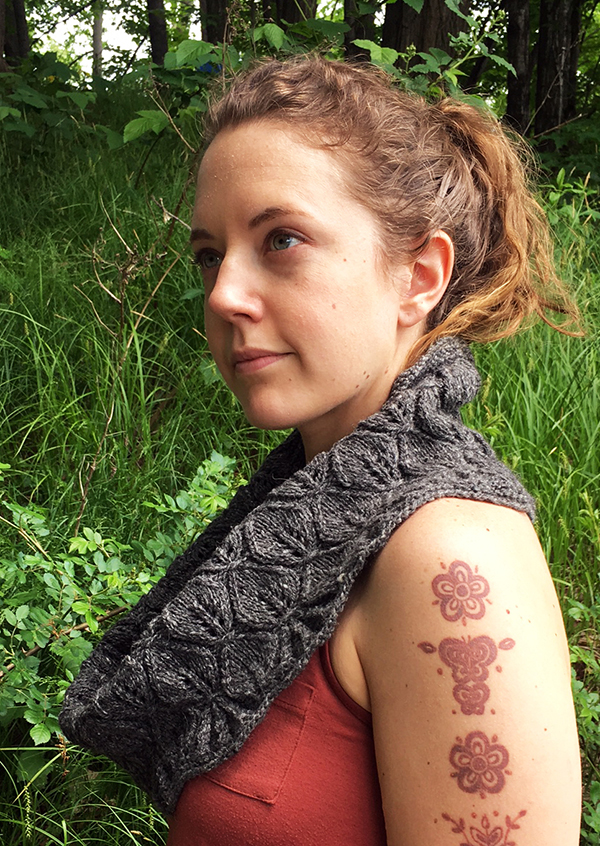 This beautiful botanical lace infinity cowl features a lacy leaf design and is bordered with a delicate cabled ruffle. The two textures coalesce into an organic pattern that frames the face and enfolds your shoulders.  Shown here in Earl Grey Alpaca Elegance and at the top of the page in Jade Sylvan Spirit.
Last but not least, is Kate Salomon's Stratton Cowl.  Traditional Gansey motifs created with simple combinations of knit and purl stitches decorate this cowl. Inspired by the simple beauty and practicality of fisherman knits, this accessory will both warm and comfort. Gradual decreases create a flattering shape that will circle your shoulders with effortless style.
This Gansey infinity cowl features our New Mexico Organic Yarns, seen above in white and grey. The light neutral tones of this yarn allow for your stitches to pop with crisp clarity, creating a classic accessory that can perfectly accompany any outfit or winter coat.
These luscious undyed skeins are made from some of the finest wool we work with. This Rambouillet fiber comes from an organically raised flock living in the scrub of New Mexico's high desert. This organically processed yarn is lofty, soft, and delightfully bouncy; like a delicious merino, but we think even better!
Our club members really enjoyed these projects and we hope that you do too.  We're delighted to be able to share them with you and hope that any one of them finds its way on to your needles soon!