If you haven't already taken advantage of one our biannual Sales, we thought we'd provide some more information about the yarns we'll be offering at some terrific prices.
Unwashed Odd weight skeins:
Odd weight skeins are first quality, but the yarn is, overall, a bit lighter or heavier than in a regular weight skein.  We typically offer our odd weight skeins at 20-40% off.
During our production process, we add a light coating of spinning oil (either petroleum or vegetable based) to our fibers as they go through our picker, to help them move more smoothly through the carding machine.  This is normally removed by a final wash we give all of our regular skeins before we twist them up, label them and get them ready to be sold.
Before that happens, when skeining our yarns to particular yardages; if we discover that a skein is either a bit lighter or heavier than our specifications, we set it aside and don't continue with our finishing work of washing, twisting and labeling.  This allows us to pass along the savings in labor that isn't added to the finished costs of these particular skeins.
When we fill orders for any particular color, all the skeins will be either all heavies or all lights. Unwashed skeins will "bloom" to softness if gently hand washed before knitting. Easy washing instructions are included with your order.  So for a flawless finished project you may want to wash your skeins before working with them and check your gauge carefully before starting your project.
Orphan Skeins:
These are the limited quantities of first quality skeins available from an older dye lot.  Orphans are available at just $10 a skein and larger quantities are usually bundled together for a project's worth of yardage.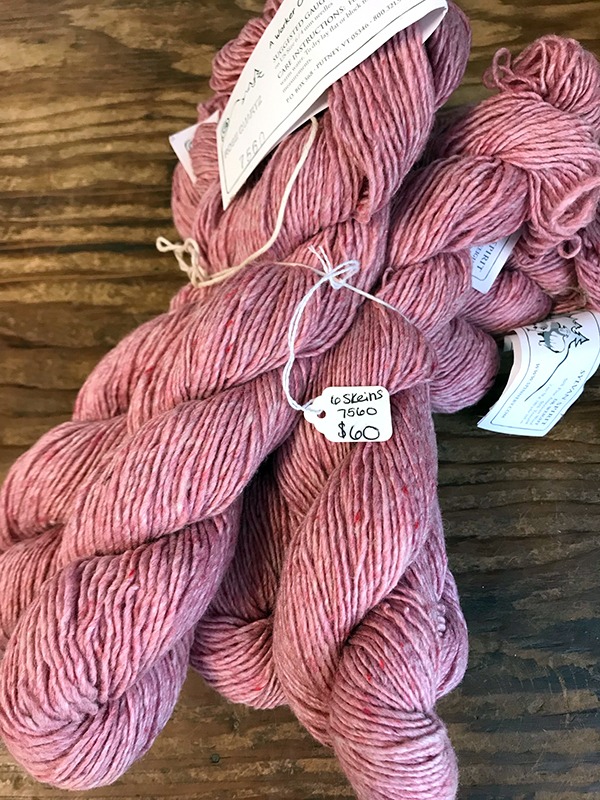 When we run low on a given color of any of our yarns, we make another batch.  We distinguish each batch with a dye lot number.  When we are able to make our new batch of a color before we completely run out of the previous dye lot, we are occasionally left with a few skeins from an older dye lot that we can send out to knitters when we receive an anxious call for just a bit more yarn.
But since the Spinnery is very limited on space, we can't store these skeins for long.  Twice a year we take advantage of this sale to clean out our collection of remainders.  Orphans are typically available in quantities of 6 or less; perfect amounts for smaller projects or adult sweaters that call for multiple colors.
Irregular Skeins:
Irregular skeins are our best bargain, available at $2.50 an ounce.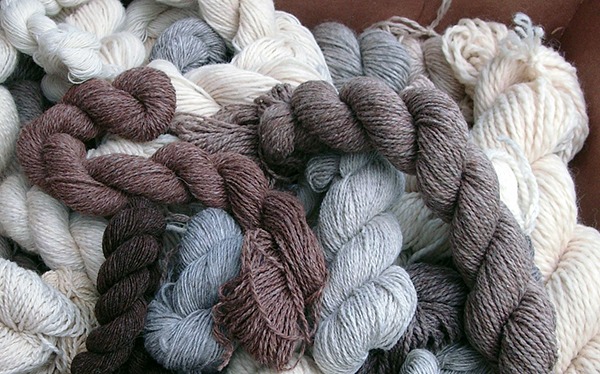 They may have more than a single knot that was necessitated by winding off small remainders of yarn from bobbin ends that.  They may have a few slubby bits caused by a irregularity in the plying process.  These can be simply cut out of the skein for a flawless finish.  These skeins are a wonderful bargain that simply require a few additional ends to be woven in.
Since our Irregular skeins and orphans are available in limited quantities, we don't offer them online.  You'll want to stop by the Mill this weekend Saturday 10 – 5:30, Sunday 12 – 4 and Monday 9 – 5:30 to browse our selection for the best deals we have to offer.  We hope that you'll be able to enjoy some savings with us this weekend!