There are several ways to get color on yarn. The most obvious is to dye the yarn after it is spun. The Spinnery does do this with several of its yarns including Cotton Comfort and Weekend Wool. Another way to develop colors is by blending different colored fibers together making what we call a "composed" color.  This is how the shades in Mountain Mohair, Sylvan Spirit and Alpaca Elegance are produced.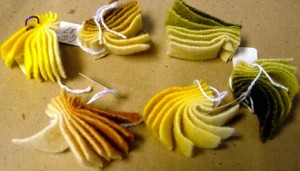 Recently a custom spinning customer requested that we produce our Spinnery Sock Art – Forest in a custom color.  She wanted a color that was reminiscent of a "wheat field", so we set to work. First we look through some swatches to get some ideas of the range of colors to go for- this is the most intuitive part of this process and fun because it does reveal a bit about how individuals here see and respond to colors.  Some people love greeny–yellows, some like a more buttery tone, some hate yellow all together.
Once a goal color is set the next step is to do some very small tests by measuring out different proportions of ingredient colors, hand carding and then spinning small test skeins. This process will get us to a base recipe for a test run of actual yarn, carded and spun on the mill machines. The test run of roving allows us to get a look at how the "real" color of the yarn will look. Now is the time to make adjustments. The roving can be cut off the spools and re-carded with added ingredients. If the color looks good we go ahead and make the yarn.
The yarns shown in these photos are very pretty but in the end the client had a slightly different color in mind.  We started the process started again with more samples and test runs. In the end, the desired color was achieved and the Spinnery learned that the Forest sock yarn has a lot of potential for new colorways using the composing method.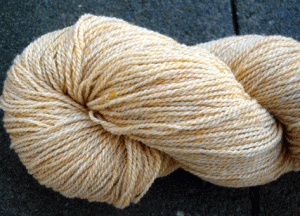 Test run yarn is still good yarn, just a bit unusual. We often have test yarns for sale in our shop in Putney. The yarns shown here are also available on-line as the Spinnery Sock Art Forest Wheat colorway. It is a nice springtime yellow perfect for a light cardigan or a great pair of socks. We would love to hear your thoughts on color and see what our yarns inspire you to create! Please let us know in our Ravelry group or on our Facebook page!