Here in Vermont we've had a burst of unusual weather – within the same week we had snow and temperatures reaching over 80 degrees Fahrenheit! The weather seems to have settled a bit, and we are happy for warmer days and plenty of sunshine. We encourage you to reach for a wonderful skein of  Alpaca Elegance, our blend of 50% New England grown alpaca and 50% fine American wool. If you have never worked with an alpaca blend before, you are in for a treat! Alpaca fibers have a hollow core, making them lightweight yet warm.
Summer is a great time to try out a new technique. Give colorwork a try with Julia Farwell Clay's "Wolves will be Wolves" hat. The sample shown used 140 yards of the main color, Chai, and 50 yards of each of the contrast colors, Cocoa and Cream. Sweaters may be far from your mind now, but remember they are a larger time investment. If you start now, you will be all ready for fall. We love Amy Christoffers' Catboat Cardigan in Rosehip; this sweater strikes a balance between a traditional sweater and modern sports wear. This yarn is also great for crochet patterns. The Walnut Vest for Men by Mary Beth Temple is inspired by classic menswear and is sure to keep your interest with basketweave pattern in the color work section of Cream and Dark Roast against the Cocoa.
We have seen many great projects on Ravelry using this yarn too, have they caught your eye? Spindlbratt's Doctor it's the Dalek's Mitts are perfect for every sci-fi fan. The One Button Waistcoat, knit by Woolymountain, is a great multi-season piece. We think you'll agree that Riverside's Maylie is so simply sweet! ShortrowT knit this short sleeve version of Cria, another great garment to span the seasons. Please feel free to add your projects using Green Mountain Spinnery yarns to our Ravelry group.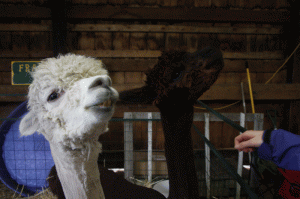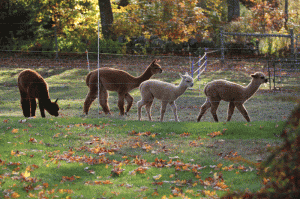 Of course, we have to share a few alpaca pictures in a post about Alpaca Elegance! These are from Ibiwisi Alpacas in Westminster, VT, taken by Marti Stone.
Could your stash use a bit more Alpaca Elegance to round it out? You can purchase Alpaca Elegance online at spinnery.com!