Can you imagine when running out of yarn might be a blessing?  It can be rewarding to find a pattern that you can't resist knitting and realizing that you might have just enough yarn in your stash to make the size you'd like.  But working on those projects can be a bit stressful, especially when you are cutting it so close that short sleeves or a cropped length seem to be your only options for success.
Kate is working on a fun FREE pullover pattern designed by Leslie Weber that is giving her the opportunity to making the most of a small quantity of yarn.  Tweedy Stripey is a boxy pullover that calls for three colors of DK weight yarn (the tweedier the better).
Many of us at the Spinnery are eager to make versions of our own knowing that our Mewesic yarn will be perfectly suited to this pattern.  Kate has elected to cast on with two different dyelots of our Earl Grey Alpaca Elegance instead.  (Her pop stripe color comes from a skein of Madelinetosh Merino DK in the candlewick colorway).  The variation is subtle but eye-catching in the right light.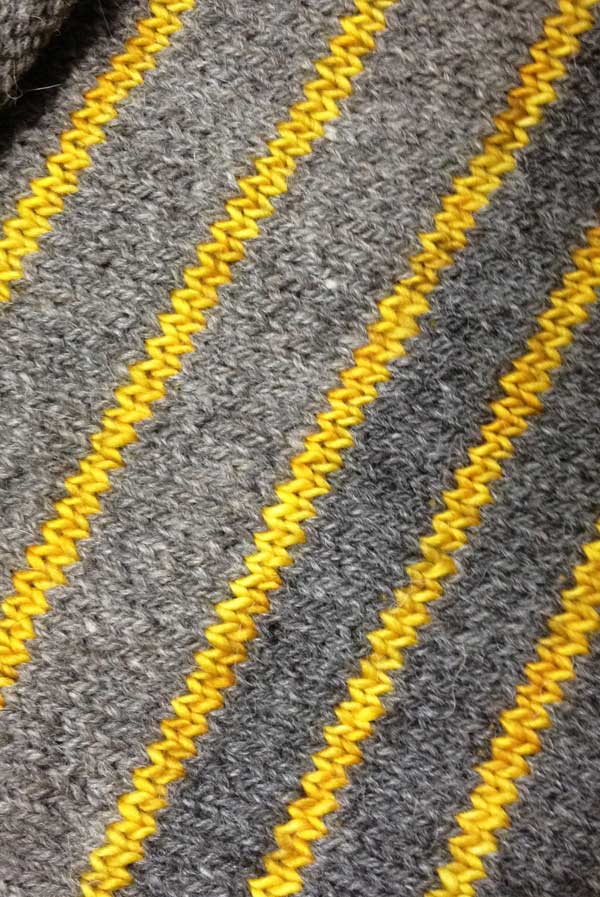 This means that she'll be able to get a sweater out of just a half dozen skeins of yarn that aren't all in the same dyelot, giving her a chance to bust her stash just a bit and make a wonderfully wearable garment with yarn quantities that she thought she'd only be able to use for smaller accessories.
We hope that you are able to find a fun stripey pattern that appeals to you (there are hundreds in the Ravelry database) that allows you to play with your stash and find creative ways to make beautiful projects with yarn you didn't think you could make use of.