We're into the double digits on our advent calendars and we know that the remaining days will pass in a flash.  If you are planning to hand craft your holiday gifts this year, we thought we'd share a few project ideas that could be created in an afternoon (or less) of knitting or crocheting.
We hope that you'll be able to get any one of these (or even a handful of them) under the tree just in time.
Our go-to yarn choice for last minute knits would have to be Capricorn.  Our bulky single ply yarn knits up in a flash at roughly 3 stitches per inch on US 10 needles.  Everything created with this blend of wool and mohair is cozy warm and deliciously soft.  The delicate halo from the mohair makes these items even more snuggly looking.
Our Capricorn Hats  and the Steps and Ladders Hat (on the left) knit up quickly; and that stranded color work ensures a double layer of yarn over your ears for a very snug and cozy hat.  You could combine contrasting colors of our soft neutrals or provide a pop of color with one of the hand-painted skeins that Melissa has created for us.
Ellen Mason's Polka Knot Hat, Ekaterina Blanchard's Pomme hat and Johnny Vasquez's FREE Gridiron Hat are a few other great alternatives that can be knit with a single skein (or a bit less).
If you think that a cowl might better fit the bill, we can recommend several FREE patterns: Purl Bee's Bandana Cowl or Garter Gaiter are both quick knits; and Kathryn Jones' Catesby Three-Hour Cowl is a crochet project that looks fun.
If you'd like to give the gift of warm hands, you might want to consider using a single strand of our Capricorn to knit up our Bulky Mittens (instead of the double strand of worsted weight that the pattern specifies).  You might also want to try Marielle Henault's FREE Bella's Mittens.  Over 10,000 ravelers have knit up this pattern, and have been delighted with the results.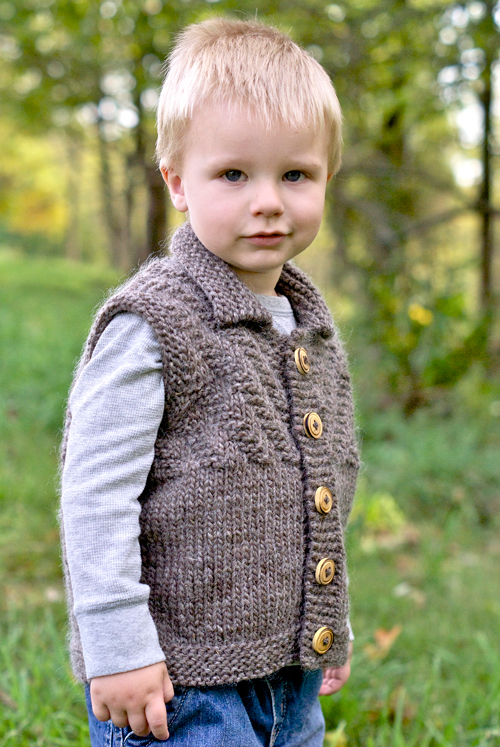 Lastly, if a pint sized project is required, you might want to consider our Little Billy Goat vest.  This knits up to a snug layering pieces for sizes ranging from 2 – 12.  Granted, the larger sizes of this pattern may take a bit more time to complete.  But who hasn't wrapped up something still on the needles with a guilty shrug and a smile?
We'd love to help support your goals and deadlines, so let us know if you have questions or need a skein or two rushed your way.  We wish you a happy few weeks of crafting.