We love hearing back from you all about working with our patterns, our yarns or your visits to our mill and shop.  It is very helpful for us to learn from you what works and when something doesn't.  It helps us develop our products to best serve your needs!
It's always fun to see our friends' handknits.  It can be inspiring to see what our yarns become.  Recently our friend Opal from Indiana reached out to us to tell us about her experience working with our Mountain Mohair.
She worked up a Lila sweater designed by Carrie Bostick Hoge.  Pictured above is the beautiful top-down pullover that features a wide open neck and flattering a-line shaping for a comfortable fit that you'll love to wear.  We don't yet have photos of her finished sweater, but she wrote to us at length about her experience with our yarn:
"I wore my sweater throughout our gloomy spring. It was a bright spot while I awaited some dry air and sunshine. I wore it daily, probably 30 wears in all, and there are no pills; truly, it still looks brand new. I am so pleased. It always feels risky spending good money on yarn not knowing how it will hold up, but it turns out the Mountain Mohair was an excellent investment!
It is next-to-skin soft for me, which was a relief. It is not terribly soft in the skein. It bloomed and softened wonderfully with a wash. It is lofty and lightweight, but a perfect warmth. Not too warm indoors and perfect for brisk walks.
The mohair halo is feminine and cozy, and I do not find it itchy even at the neck and wrists. I have worn this sweater nearly every day for 2 weeks, and it looks great! No pilling, despite my very clingy toddler who is either on my hip or crawling all over me on the couch all day. The sweater looks great and is holding up beautifully. It's just a wonderful sweater to throw on.
I think this yarn is a wool-lover's yarn. When I wear it, I find myself reflecting on the wonders of wool: such warmth in such an airy garment, so cozy, so beautiful and lustrous. If putting on good wool makes you happy in this way, then you'll like this yarn!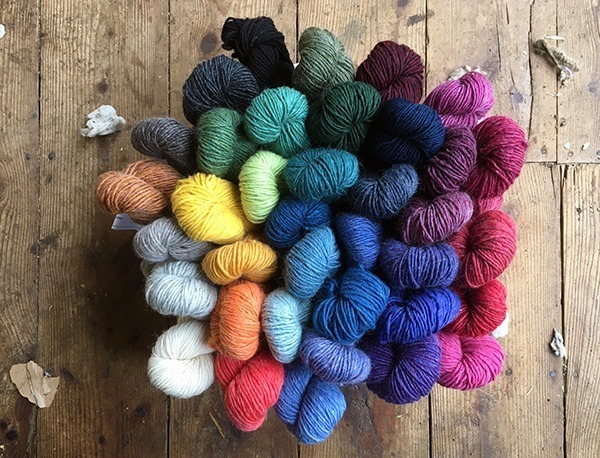 I look forward to using it again in the future. The colors are so beautiful. Please don't stop making it!"