We've added four new shades to our Alpaca Elegance line!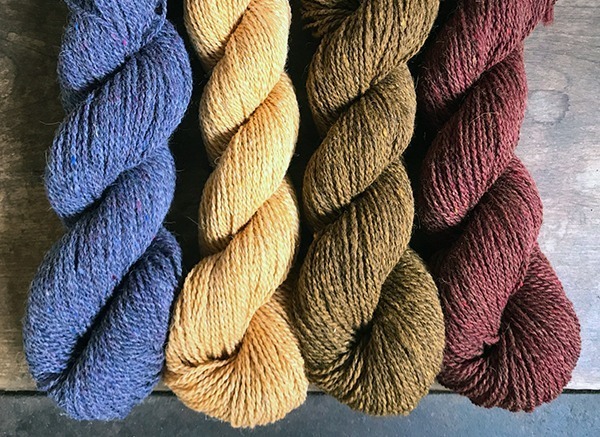 Shown above is Lavender Cream, Chamomile, Darjeeling, and Roobios.  These additions were created by blending our bale dyed fine western wool with undyed alpaca (whose full range of colors can be seen among the undyed shades of this line: Cream, Chai, Cappucino, Cocoa, Dark Roast and Earl Grey).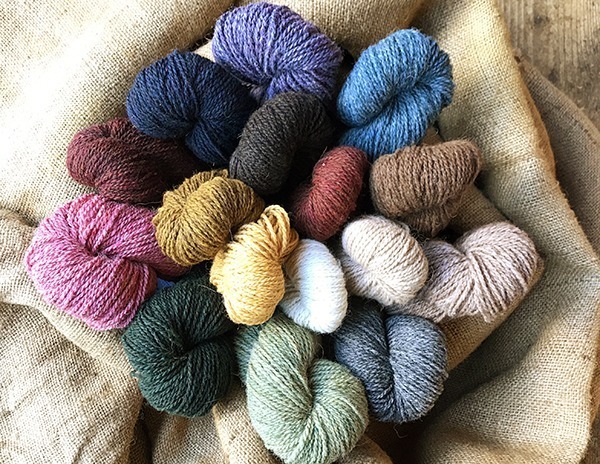 We're thrilled with how these new shades provide us with more options to play with!  Many of us are flirting with the idea of a reimagined version of Corrie, a new Windrow Cardigan might have a bit more cozy warmth (than if you selected to work with Cotton Comfort), or even a fresh sample of the Snowy Woods Sweater from the pages of our 99 Yarns and Counting book.
You can find many more pattern options that can be knit up with this DK weight yarn among those to be found on Ravelry here.
Don't be surprised if you see a new design from Maureen that features many of these colors!  We'll keep you posted on her progress.
You'll be able to find these skeins in our booth this weekend at the Vermont Sheep and Wool Festival in Tunbridge, VT.  You can fondle them in person and find a perfect project to get started on while the Festival is open from 10-5pm on Saturday and 10-4pm on Sunday.  We'd love to see you there!