As we are all adjusting to sheltering at home, and social distancing when out of the house; the virtual distance between many of our friends is shrinking beautifully.  We've had more time to virtually reconnect with busy fiber producers who are sharing details of their days via social media.
It's lambing season for many of the shepherds we work with; and that has filled our Instagram feed with adorable photos of new arrivals that we know will bring you as much joy as they do us.
This is a twin ewe lamb that arrived with a smile on her face to Dominique at Catskill Merino in upstate New York.  Dominique has continued the work of Eugene Wyatt in raising a flock of Saxon Merino that grow some of the softest, bounciest and finest fiber we spin.
We've partnered with Eugene and Dominique for many years making yarn for hats (that you can read more about here) as well as thousands of skeins for delighted hand knitters.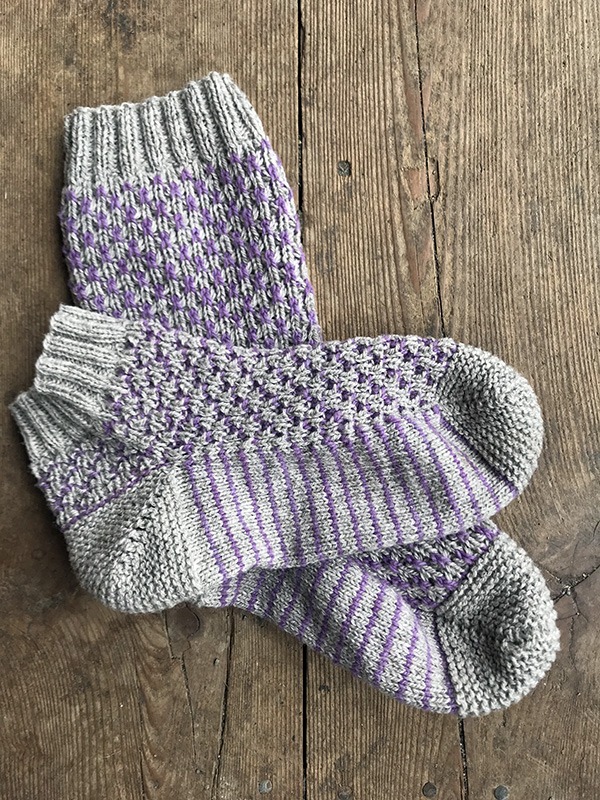 We have used their yarns in conjunction with ours in a couple of patterns that were a part of our Mystery Project clubs of 2018 and 2019.  Cap Sease's Polar Teddy and Maureen's Dominique Tuck Socks (shown above) feature two yarns that you can purchase directly from Catskill Merino on their website, here.
If you'd enjoy learning a bit more, you can read all about the remarkable history of Eugene's flock on the Catskill Merino website. The narrative begins with the original merinos of King Ferdinand of Spain in the 17th Century and traces a fascinating story to the handsome Australian rams that Eugene was able to bring to his farm in the 1990.
When Clara Parkes reviewed the yarn produced by this flock in May of 2010, she was as delighted as we know that you'll be.
"This is the ultimate kind of farm yarn. It both is something and it represents something. It tells a story, and it comes from people who care deeply about their animals, from their quality of life to the quality of fiber and meat that they produce; people who go so far as to fashion a tiny splint for a lamb's broken leg, name a sheep after an abstract expressionist, or marvel at their Australian kelpie's amazing sense of geometry when at work."
Clara's most recent book Vanishing Fleece follows her experience in processing a bale of this gorgeous fiber as part of her Great White Bale project.  It should be added to the top of your must read pile.  For a special treat, you might want to consider enjoying the
audio version
of the book which she narrates herself!  You can knit while you listen.
Today, the flock continues to thrive under the careful and generous stewardship of Dominique who takes part in every aspect of the flock's care. Following the farm's 
Instagram feed
 will allow you to see it from her eyes, from lambing, day to day care of the flock, dyeing of the skeins and even marketing the Catskill Merino yarns at the Union Square Farmer's Market in NYC and the NY Sheep & Wool Festival in Rhinebeck.
Her dedication to this flock is a great gift to the fiber community. We are delighted that Eugene's legacy of bouncy, downy soft skeins continues and we wanted to share some of that love with you.  Plus, the promise of more lamb photos to come!