Our weekend in Rhinebeck was wonderful.  The New York Sheep & Wool Festival is a treat to attend every year and last week was no exception.  The weather was perfect (just brisk enough on Sunday to require woolen layers).  The fall color seemed to be at its peak and the crowds seemed delighted with their visit.  We loved seeing friends and making new ones.
One of our favorite aspects of the festival is the show and tell.  We had many friends stop by our little "shop" to show us what they've been working on and how beautifully their projects knit up with our yarns.  We thought we would share some of the ones were able to grab some photos of with you.
Our friend Diane stopped by wearing this great hat that she knit up with the leftover yarn she had in her stash after finishing this beautiful sweater.  We just love how the Pine Warbler color of Spinnery Weekend Wool pops like the fall foliage and shows off her cables with crisp detail.
We got to talking with Liz while waiting in line for hot apple cider and fresh doughnuts.  She pulled on a stunning version of the Sugarleaf Sweater designed by Mary-Heather Cogar and part of the Rhinebeck Sweater collection published by Ysolda Teague last fall.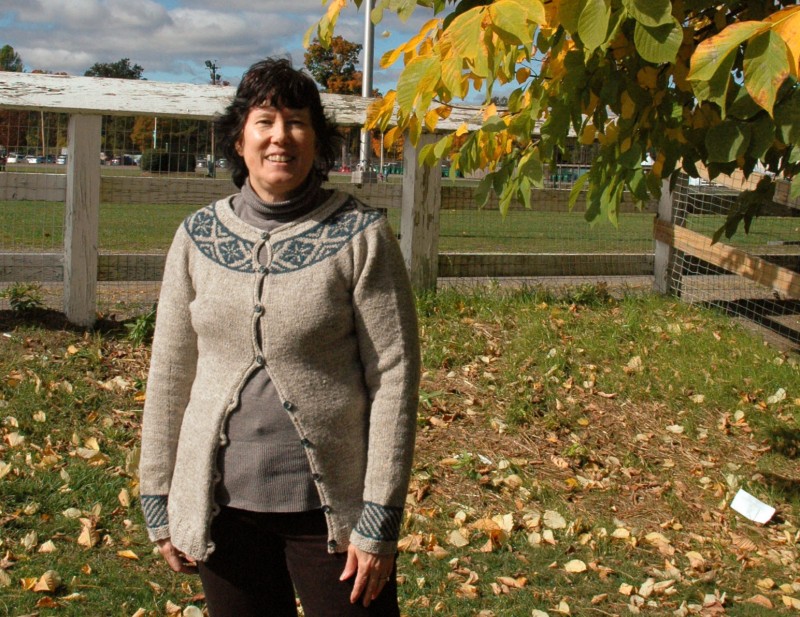 Liz created this beautiful cardigan with Spinnery New Mexico Organic and Alpaca Elegance in the Blue Lotus color for the lovely color work.  It looks stunning on her, don't you think?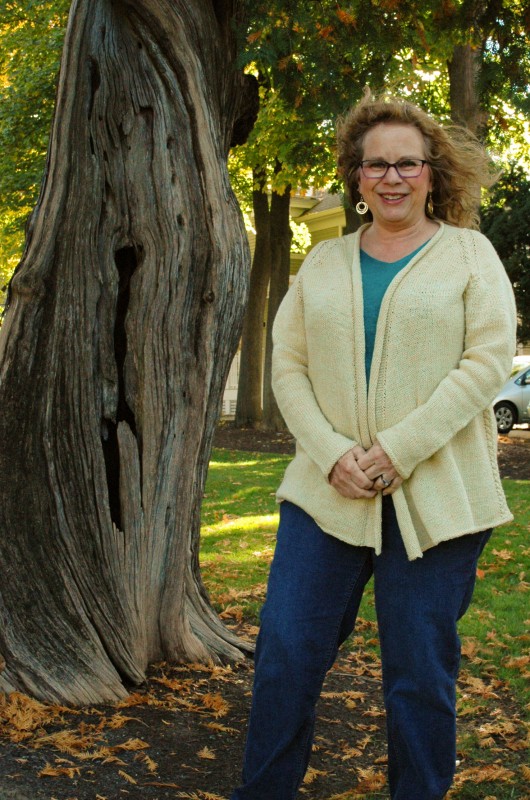 Our friend Jenny is modeling her version of Flyaway by Marji LaFreniere.  That beautiful drape is thanks to the Spinnery Sylvan Spirit she chose to work with in the Citrine color. The wool and Tencel blend lends the finished fabric of her sweater wonderful stitch definition and a swingy flattering shape.
We think that it is the details of this pattern that make it special.  The cables run up the spine, and merge under the arm as part of the raglan sleeve construction.
We want to thank all of you who stopped by the Spinnery booth to introduce yourselves. You had a chance to see what we've been working on and touch and see our yarns in person.  We hope that you'll return next year with new projects to share with us or that we may have inspired you to come to Vermont for a visit to the Spinnery so that we don't have to wait that long to see you again!