To celebrate the first signs of spring, and the terrific workshop that we have lined up for our 2108 Knitter's Weekend, Larisa has designed a pair of toe-up socks!  The Putney Flock Socks are a perfect project to launch your warmer weather knitting!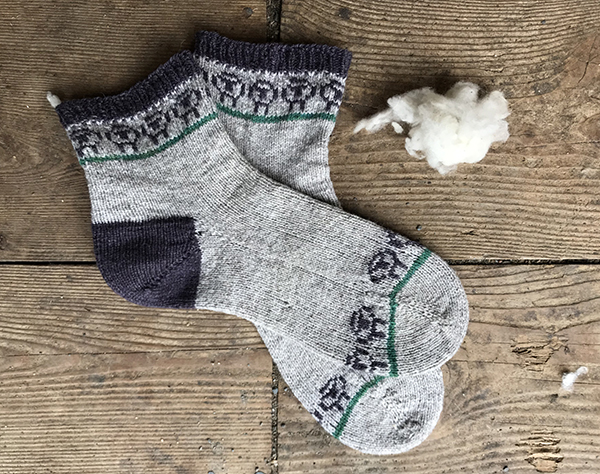 Our skeiner Tracey likes to enjoy a leisurely stroll along a country lane after work when the weather cooperates. Her favorite route takes her alongside the pastures where Putney's local flock grazes. These sheep provide us with delicious cheese as well as beautiful fiber. We can't think of a better way to commemorate the pleasure they bring us, than with a sock design that could be worn on those daily strolls.
The pattern is designed for a medium womens' size and it calls for MC: 1 skein Forest, Lana or Meadow, CC1: 86 yds for sheep, CC2: 14 yds.  You may find that you have the yardage you need for your sheep and the pasture in your stash.  If you don't, not to worry!  We'll have a limited supply of project kits available for sale at our booths at the Maryland Sheep & Wool Festival this weekend and the New Hampshire Sheep & Wool Festival next weekend.
Included in our kit will be the pattern, and all three yarns to complete the project!  At just $38. 50, it may be the best thing you bring home from the festival…unless you are bringing home an actual flock. 🙂