Over a decade ago, we first created Simply Fine yarn to provide a lighter weight single-ply sibling to our deliciously soft and minimally processed Green Mountain Green Yarn.  These yarns include a blend of 60% Fine Western Wool and 40% Kid Mohair,  two of the softest and most luxurious fibers we spin here at the Mill.
We offered the fingering weight yarn in the same three undyed natural shades as our Green Mountain Green: Dark, Variegated and White.  As a demand for beautiful hand-painted skeins grew, we asked our friend Melissa Johnson to hand dye our creamy white skeins.  She worked her magic in mini batches of 4-6 skeins at a time, and every skein was a work of art.
Over the years we've developed a growing collection of smaller accessory patterns that called for 1-2 skeins of these 450 yard skeins.  They highlighted the jewel tones that Melissa was able to create in her dye pots and introduced our fiber friends to the dreamiest fiber blend we make.  We have collected these patterns that call for our Simply Fine below, so that you can review them at your leisure.
On the left, the Phoebe Cowl was one of the first patterns published with Simply Fine.  This pattern is created with an easily memorized lace motif and calls for just 224 yards of fingering weight yarn.  Our large skeins provided knitters with sufficient yardage to make two cowls and gift one away.  On the right, is Cap Sease's Frilly Mobius Cowl that features an unusual construction. Beginning with a mobius cast on, the pattern calls for a regular sequence on simple increases that result in playful ruffles of fabric that frame your face.
Maureen began her love affair with this yarn with her Gillette Wrap (named for the Massachusetts stadium because she enjoyed working on this shawl while watching the New England Patriots play).  This garter stitch crescent shawl includes a short row shaping, a delicate lace motif, and a decorative edge that will catch any eye.
Maureen is the Mill's resident crochet expert and she has designed many patterns with this soft inviting yarn.  Both of the designs shown above are created with a hook.  On the left is her Septor Cowl is worked flat and sewn together to form an infinity loop that enfolds you with comfort. On the right is the Catalina Wrap uses short row shaping to create a pleasing crescent shape, that forms to the shoulders.
Cap Sease has designed a couple of patterns that highlight the variable tones of the Simply Fine Variegated skeins.  On the left above is the Guilford Shawl which is worked from side to side.  The delightfully squishy garter stitch crescent shawl has a delicate lace edge that is worked as you go.  It is a pleasure to wrap up into it.  Shown on the right is her Mad River Cowl that has been a very popular pattern.  When worked with the subtly shifting shades of our Variegated yarn, the twisted stitch lace motif looks a lot like sunlight on rushing water.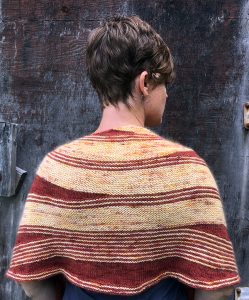 Larisa Demos' Mercury Rising Shawl was inspired by one of the Spinnery's Knitter's Weekend gatherings when Bristol Ivy shared tips and tricks on shawl construction and design.  This popular wrap features luscious garter stitch texture and short-row sections of contrasting color stockinette in a generous overall length that won't leave you feeling engulfed.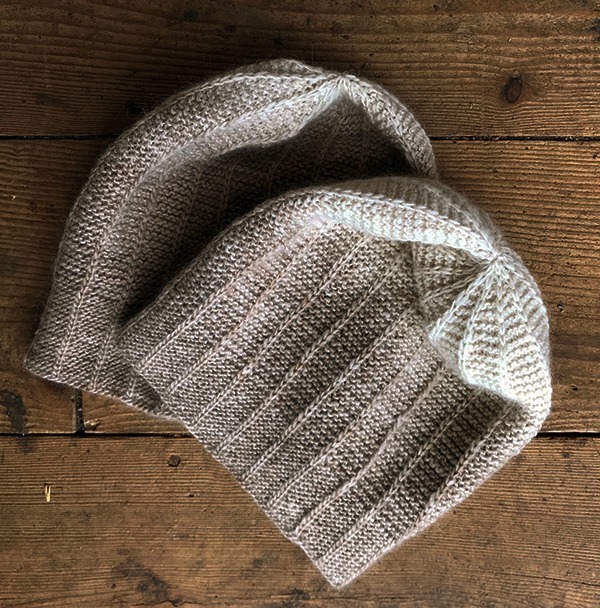 Our FREE Thermal Cap pattern makes for a perfect holiday gift.  Our 450 yard skeins provide enough yarn for two caps.  It also makes use of garter stitch for a light weight hat that provides comforting warmth without bulk.
Most recently, Maureen has created two new designs with our Simply Fine in its newest form, our Simply Fine Skinnies.  These smaller skeins are just 224 yards and perfect for colorwork projects.  Haylie's Cowl & Hat call for 6 colors and uses five different lace patterns to highlight the spectrum.  The additional yardage will give you sufficient yarn for a matching hat with an adorable pom.
Last but not least is the Scarlet Shawl, released just this week!  Maureen's new pattern plays with color and texture in a generous wrap that is still light as a feather thanks to how fine that yarn is.  She has paired three shades of our Simply Fine Skinnies: Pick Your Own, Woodsmoke and Deep Sleep in lace and garter stitch chevron patterns.  Two playful tassels add the finishing touches to a dramatic shawl that will inspire the leading lady in you to enjoy some well deserved time in the crafting spotlight.
Believe it or not, this is only half of the story!  We have even more to share with you about the development of our Simply Fine yarn and the garment patterns we've created that you can find in a second post, here.  We love being able to provide you with so many exciting pattern suggestions.  We hope that you'll feel inspired to try these beautiful skeins for an upcoming project, so that you can experience what a joy it is to work with and wear.