We hope that you've enjoyed looking through the collection of accessory patterns that we designed over the past decade to feature our Simply Fine yarn, in our previous blog post.  We'd like to continue the story, and share a bit more with you.
As more and more projects have been created with this yarn, demand for it has grown, and many crafters are considering using it for garment patterns that call for more yardage. Suzie Allen created the Aria Tunic pattern as part of the Green Mountain Weekend e-collection that was originally published in 2013.  Her pattern includes a size range of  33 (35, 37, 39, 41) in / 84 (89, 94, 99, 104) cm and calls for 3 (3, 4, 4, 5) skeins of hand-painted Simply Fine.
Some knitters found that the mouthwatering hand-painted skeins that we produced at that time were a complicated choice for larger garments such as this beautiful tunic, as exactly matching skeins were not often in stock at one time and could be difficult to reproduce.  For some, alternating skeins throughout their project created great results; but this can feel daunting to many makers.  Instead of getting stuck with this as a problem, we instead recognized it as an opportunity; and so our Skinnies skeins were developed.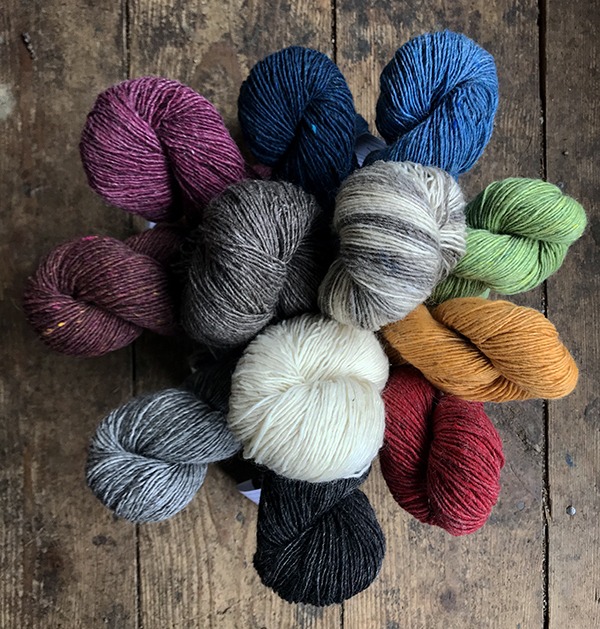 These half-sized skeins (224 yards) are made much like our Mountain Mohair yarn, with exacting recipes that blend bale dyed wool with mohair in the carding process.  The consistency of the colors between skeins means that it is a much easier option to consider for larger garments; and the smaller skeins can make them more useful for colorwork projects that call for smaller amounts of many different hues.
As soon as we twisted and labeled these skeins, many of us cast on without delay.  We've been hard at work developing a new growing library of garment patterns that call for Simply Fine and we'd like to share them with you here.
Sandi Rosner designed Bunny Hill to use a handful of our new colors together in this beautifully simple geometric pullover design.  This top-down sweater's repetitive motif provides recurring rows of stranded color work that are ideal for a knitter new to this technique.   Her pattern includes sizes from 34 (38, 42, 46, 50, 54, 58)," /86 (97, 107, 117, 127, 137, 147) cm.  The yardage requirements are 2 (2, 3, 3, 3,4, 4) skeins Undyed Simply Fine (450 yds) and 1 skein each of Simply Fine Skinnies (224 yds) in CC1, CC2, CC3, CC4.
If you are already proficient with stranded color work, and the idea of managing longer floats doesn't make you unsteady, you may want to consider Elevate, designed by Kate Salomon.  It is a unisex pullover that pairs the neutral shades of our woolen spun Simply Fine with two different worsted spun super-washed yarns for contrast colors that pop with saturation. (On the left is the Java Jive colorway of Fiber Optic Yarns Unified Gradient and on the right is Log Cabin in the Fingering weight MCS blend.)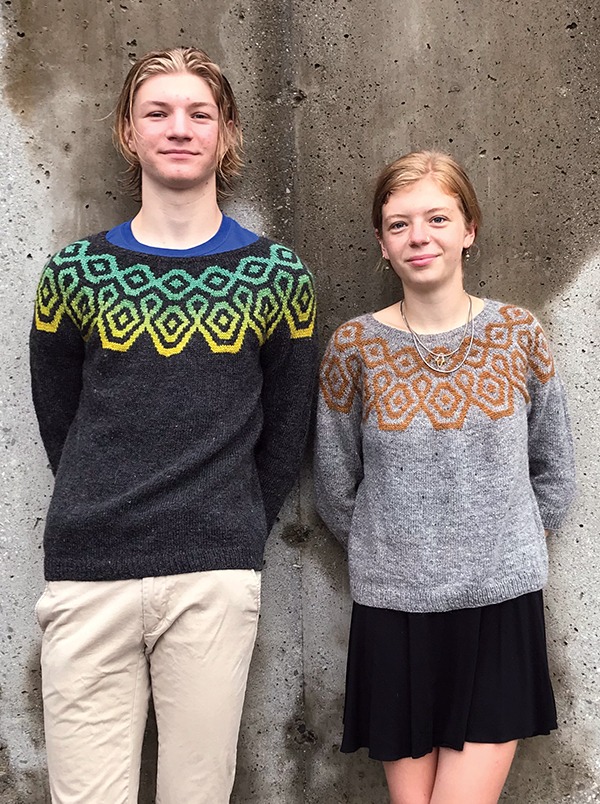 The pattern includes a size range of 32 (36, 40, 44, 48, 52, 56, 60)" / 81 (91, 102, 112, 122, 132, 142, 152) cm chest circumference and calls for MC 6 (7, 8, 9, 10, 12, 13, 15) skeins Simply Fine Skinnies (224 yds each) CC: 200 (350) yds fingering weight yarn.  This yardage information is sufficient for the longer version on the left.  The pattern's top-down construction ensures that you can try it on as you work, allowing you to adjust the length of the body and the sleeves to your preference.  You may decide that you prefer a cropped length and 3/4 sleeves which will lessen the amount of MC yarn required.
We also have a crochet pattern to share with you: Sign of Spring Top designed by Moon Eldridge.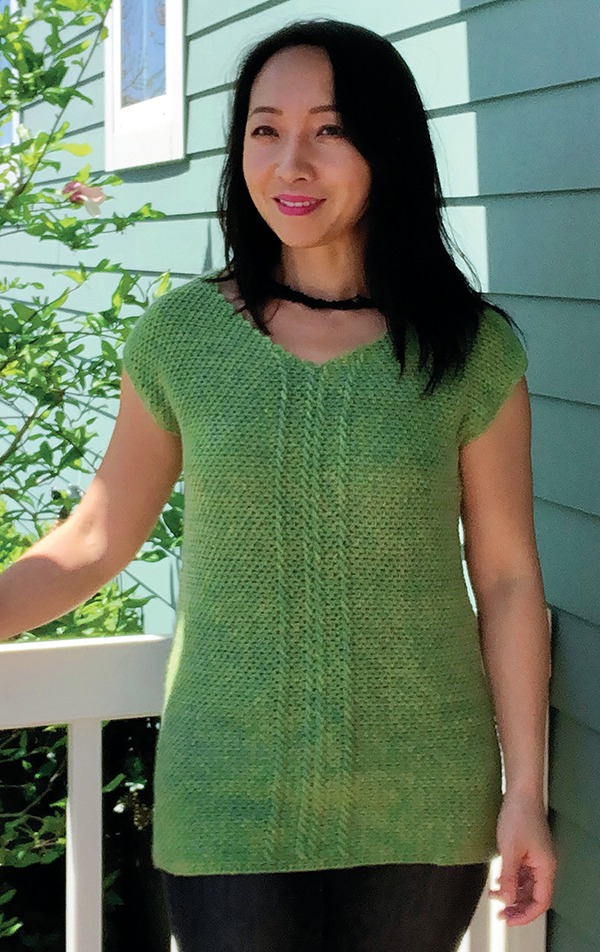 This tunic's pattern calls for using a larger hook (H or 5mm)  to create an open work fabric that has beautiful drape and movement. The pattern's size range is 36 (40, 44, 48, 52)" / 91.5 ( 101.5, 112, 122, 132) cm bust circumference, to be worn with 2-4 inches of positive ease. It calls for 7 (7, 8, 8, 9) skeins Simply Fine Skinnies (224 yds each).
One of the delightful benefits of Simply Fine's fiber content is that the mohair's longer fiber length provides flattering fluidity to the finished fabric with a soft halo that protects the stitches from the friction that can cause pilling.  The single-ply construction allows the fibers to plump up when blocked, ensuring that your stitches look even and beautiful at a surprisingly wide range of gauges from 26 – 22 stitches over 4 inches.
It lends itself well to patterns from many of the fiber world's most popular designers.  We can also share with you several finished projects that have been completed with Simply Fine to beautiful effect.  Below is a version of Elizabeth Doherty's Sian that pairs the Natural Dark with the Nostalgia colorway. Elizabeth created her pattern to be worked at a DK gauge; but Kate worked the design at a larger size with our finer yarn thanks to a clever chart included in the pattern notes that helps the knitter find the perfect size for a wide range of stitch gauges.
Kate also used Simply Fine when she made her second Wool and Honey sweater designed by Andrea Mowry.  This photo shows how the luster of the mohair can really enhance the stitch definition of Andrea's clever top-down pullover design.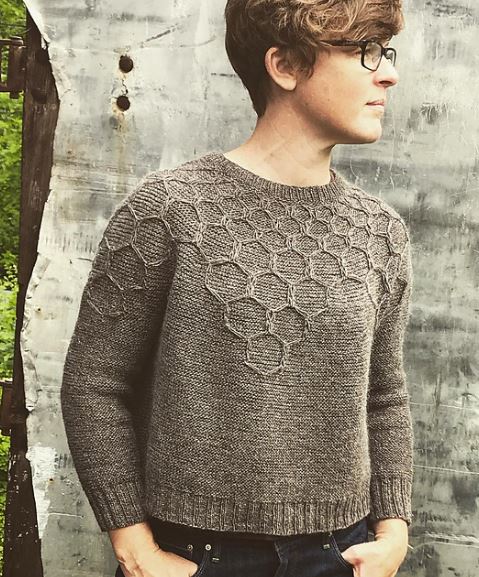 We hope that you'll take a quick peek through the finished clothing projects on Ravelry that feature this lovely yarn.  We imagine that you'll find some great project ideas there, and we hope that our Simply Fine will be on your needles and hooks in the near future, so you can enjoy what we've come to love!