We reorganized one of our display walls last week in order to incorporate the newest colors of Sylvan Spirit into our DK wall of yarn.  This inspired us all to pick out skeins for a FREE shawl pattern that has been topping the popularity charts on Ravelry this month.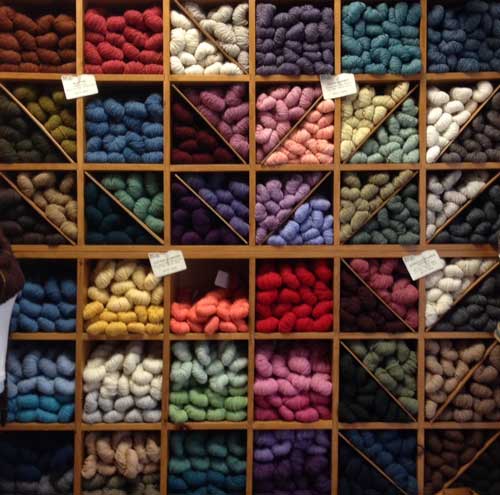 Over the Sea to Skye designed by Kalurah Hudson seems like a perfect late summer project.
"Reminiscent of the sweeping landscape of beachy Dunes and the rippling of the waves as they rush onto the sand.  This oversized shawl is the perfect accessory for a chilly summer night but light enough for a warm, balmy day as you journey over the Sea.
It's beauty is in its sheer simplicity. Easy to memorize increases and clean transitions between garter, lace mesh and eyelet lace. The shawl's asymmetric shape lends a generous width for wrapping. And the sweet little picots and eyelet edging add just enough romantic whimsy."
While any of our DK yarns (Mewesic, New Mexico Organic, Alpaca Elegance, Sylvan Spirit, or Cotton Comfort) will allow you to get gauge for this pattern we all agreed that a light summer wrap would be more appealing to knit and wear in our yarns that blend plant fibers with wool.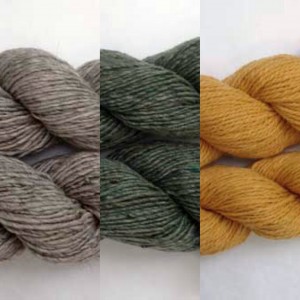 Larisa and Maureen are both drawn to working with Sylvan Spirit.  The 50/50 blend of wool and tencel creates an enviable drape that will look terrific when paired with this pattern.  Larisa wants to work with Sterling and Maureen wants to cast on with Jade.  Kate is interested in playing with a bolder color and is considering Cotton Comfort in Yarrow.
Are you tempted to cast on for this beautiful pattern in one of our delicious DK yarn options?