Our friend Eli of Skeindeer Knits has organized a club that you may want to take part in!   Her pattern subscription club will grant you exclusive access to four as of yet unpublished Norwegian colorwork mitten patterns. They will each be released at the beginning of every month until the end of 2018, and each will be sent straight to your Ravelry inbox.
The club has been composed with colorwork mitten beginners in mind, and will be released in order of difficulty, much like last year's club. The club kicks off with a bonus Aran weight pattern, the 'Speedy Selbu Mittens', the ideal entry-level pattern for anyone who has never done colorwork mittens before. So even if you did not take part in last year's club, you will not fall behind.
The Speedy Selbu Mittens are shown below, knit up in two colors of our Weekend Wool.  Gorgeous, right?!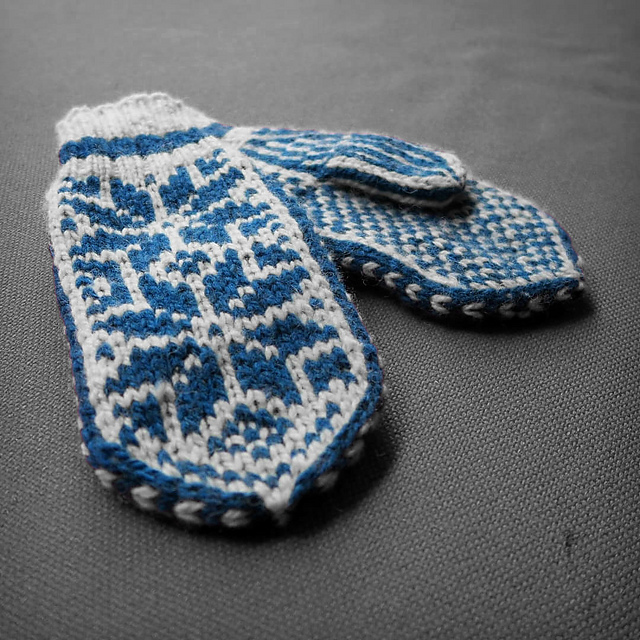 The next two patterns will be in DK weight yarn, whereas the last two pairs will be made using anything ranging from sport to light fingering weight yarn.  Eli confided in us that our yarns could be used for some of the upcoming patterns.  Mewesic and Lana would be great for the Sept+Oct and Nov+Dec mittens, respectively.  What fun!
All mittens are constructed in accordance with traditional Norwegian Selbu mittens, so once you have made the first pair you will be able to make them all.  The 4 mystery patterns will be released in full, one per month to club members. They are remarkably quick to make, and perfect for gift knitting.
You can join The Selbu Mitten Club by simply buying this ebook here on Ravelry.  By joining, you'll receive your copy of the Speedy Selbu Mitten pattern and you can choose which two colors of Weekend Wool you'd like to work with from the section to be found on our website, here!
We've been sending out packages with contrasting skeins of Weekend Wool all week, and each new color combination has us more smitten than before.  This quick project is a perfect one to work on when temperatures and humidity levels get too high for comfortable sweater knitting.  And it's never too early to get started on your holiday gift knits.
This week, we'll be hosting a contest on our Instagram feed that will provide one lucky winner with a FREE copy of Eli's Speedy Selbu Mitten pattern.
We hope that you'll join the fun of Skeindeer's second Selbu Mitten Club.  It will be a gift that you can give to yourself and others!