Now that sweater weather is fully upon us, we have some new designs for you to consider and a fun invitation to extend to you.  We thought that we'd showcase all of this season's new patterns in one place so that you can select between them.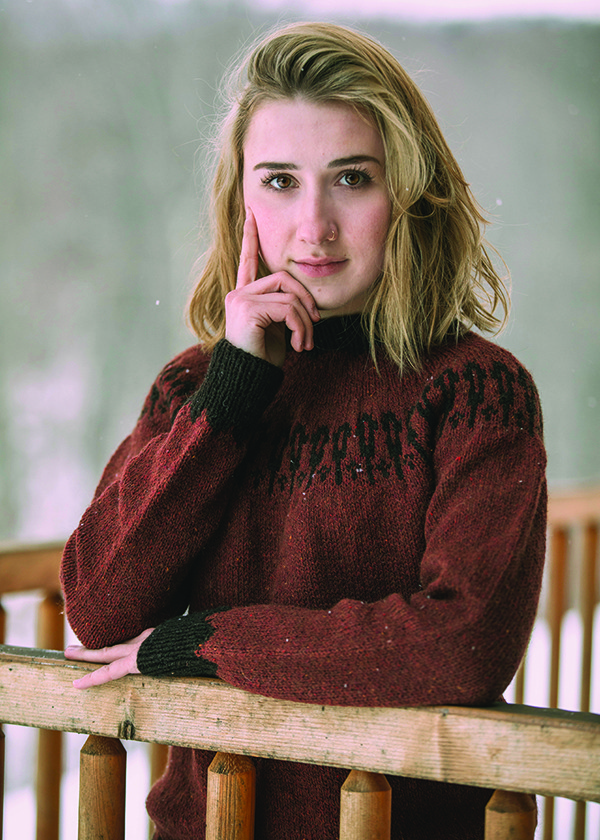 All in a Row is a yoked pullover pattern designed for us by Cap Sease. The pattern features a bottom-up construction and is worked with our DK weight yarns, shown above in Rooibos and Dark Roast Alpaca Elegance. So cozy!
Based on a Norwegian ski sweater, the geometric pattern on this pullover creates a stylized design. Alpaca Elegance produces a lightweight, yet comfortably warm, sweater that you can wear for any occasion.  The pattern includes a wide range for sizing from 34 (36, 38, 42, 46, 50, 54, 58, 62)" / 86 (91, 97, 107, 117, 127, 137, 147, 157) cm, calling for MC: 6 (7, 7, 8, 9, 10, 11, 12, 12) skeins, CC: 1 skein of Alpaca Elegance (CC) or Cotton Comfort, Mewesic, Sylvan Spirit or New Mexico Organic (180 yd skeins).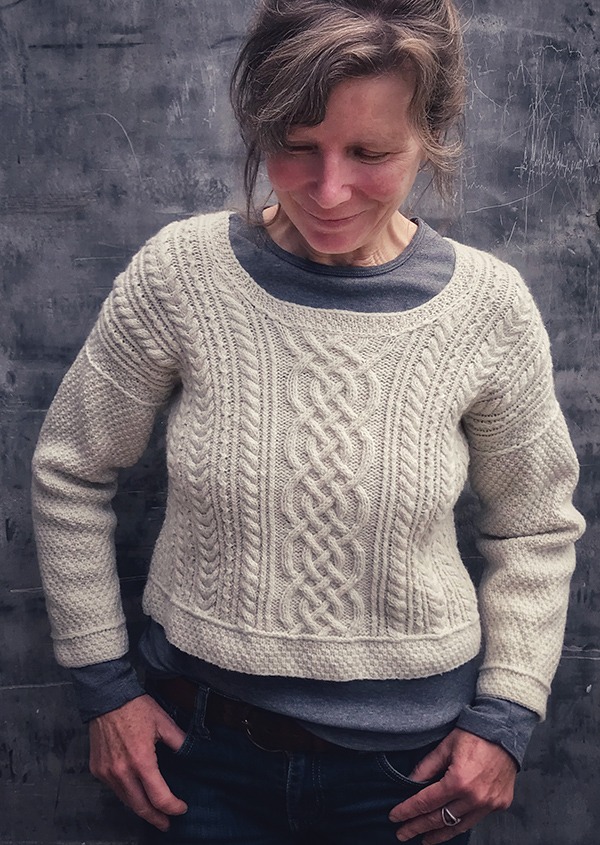 We are also smitten with Maureen's new cabled creation, Your Irish is Showing. This cropped pullover modernizes the classic Aran sweater with some contemporary styling ideas. When worked in a lighter weight yarn for a more fluid fabric, and designed with a fun up to date length, this sweater is transformed from a Fishermens' knit into a more relevant garment that may become your new classic.  It 's shown above in our white New Mexico Organic yarn.
This pattern is also worked from the bottom up, so you can easily add more length if the current trend of cropped sweaters is not your thing.  The pattern includes sizing from 36 (39, 42, 47, 51, 53, 57, 61, 65)" / 91 (99, 107, 119, 130, 135, 145, 155, 165) cm calling for 6 (7 ,7, 8, 9, 9, 10, 11, 12) skeins New Mexico Organic, Cotton Comfort, Sylvan Spirit,  Alpaca Elegance or Mewesic (180 yds each).
** Our stock of New Mexico Organic is running low and we will need to wait for the flock to be shorn in the  Spring in order to make our next batch.  In the meantime, we are in the process of creating two new shades of Mewesic that will come close to matching the white and grey New Mexico organic yarns, but will not be made with wool from organically raised sheep.
You may have read here last month that Snowy Woods is now available as an independent pattern.  Cap's slipped stitch yoked pullover is a classic design that has been popular since it was first published in our 99 Yarns and Counting collection.  We've seen it worked up in Alpaca Elegance for a cozy look, and the Sylvan Spirit used below highlights those textured stitch details to perfection!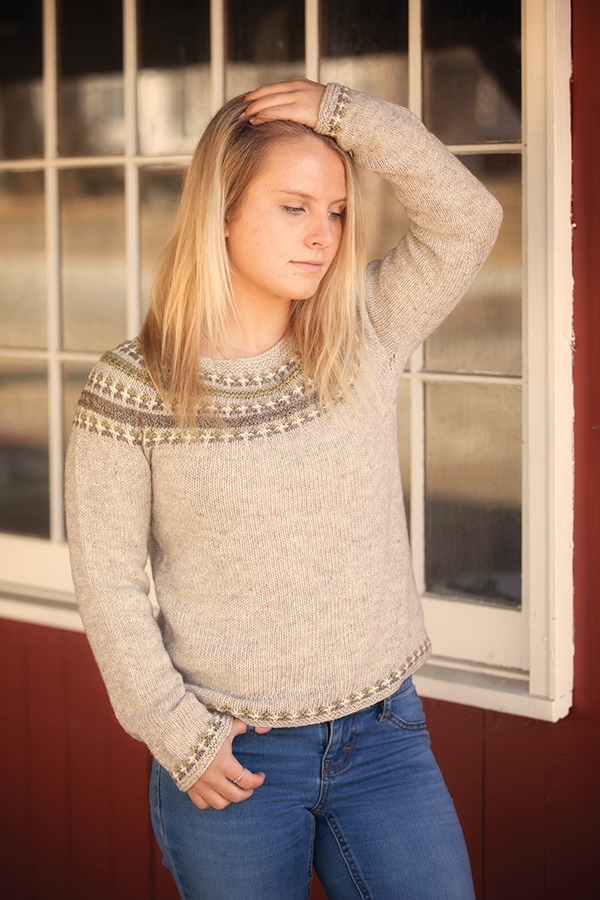 For those of you living in warmer climates, or looking for a sweater that will be useful before it gets chilly,  Cap Sease's Whitby pullover may be the pattern for you.  The seaside towns along the east coast of Yorkshire were noted for their elaborately decorated fishermen's sweaters. The pattern stitch on this pullover originated in Whitby, one of these towns.
It is shown below in the Ancho color of Lana, our 100% wool 2-ply fingering weight yarn.  The pattern is worked bottom-up and features delicate texturing in the yoke created with a simple sequence of knit and purl stitches.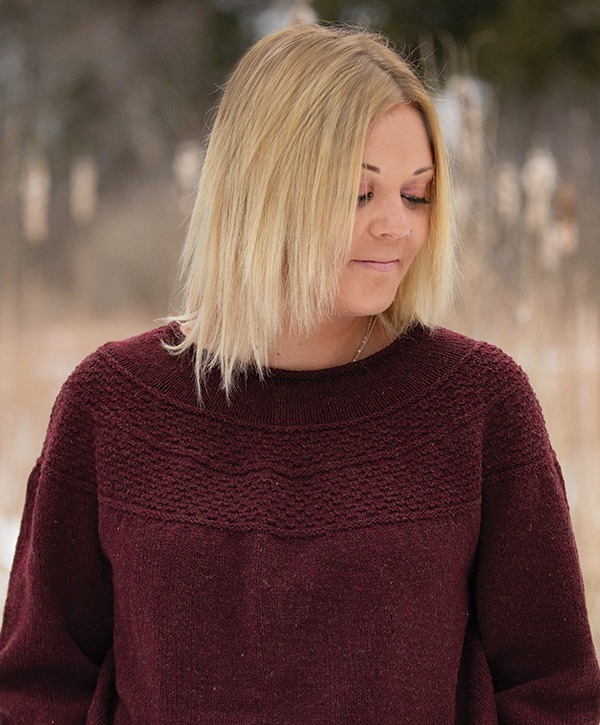 Our pattern includes sizing from 35 (38, 42, 44, 48, 52)" / 89 (97, 107, 112, 122, 132) cm, and calls for 3 (4, 4, 4, 5, 5) skeins Lana, Meadow or Forest, which are all put up in 400 yard skeins.
And we have a warm cozy scarf that we think you'll adore! Tosh.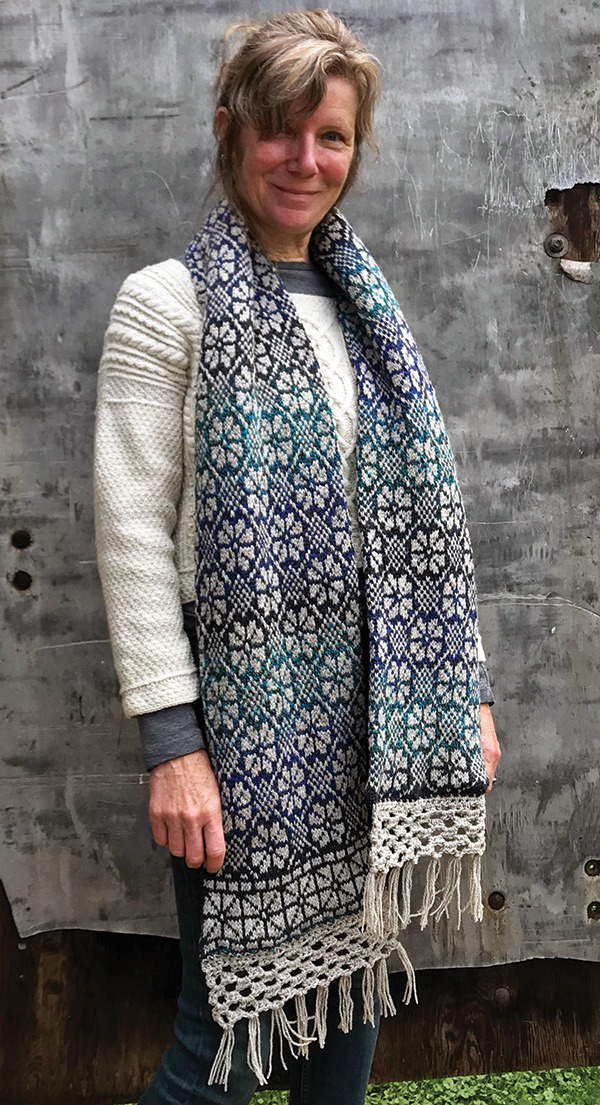 Our favorite scarves are voluminous to wrap up into and have no "wrong" side to complicate styling; and our preferred patterns look more complex than they are to make. This woolen scarf is made doubly warm by being two-sided (a trick easily accomplished not with double knitting, but by working in the round and blocking flat).
And it features two-color stranded knitting made more sophisticated thanks to the variegation in the Ragg-Time yarn used as the main color. Finished with a crocheted fringe edge, this scarf doesn't take itself as seriously as it will be able to keep you warm.
It's generous dimensions can be knit up as pictured with 3 skeins of GMS Ragg-Time (MC), 4 skeins of New Mexico Organic, Cotton Comfort, Mewesic or Alpaca Elegance (CC).  Shown here in Bessie, Ragg-Time and Grey New Mexico Organic.
We are very proud of these five patterns, and we're delighted that we have even more options to share with you that have been designed by our friends.
Thea Colman (aka Babycocktails) has crafted many Rhinebeck sweater designs that call for Green Mountain Spinnery yarns, including Cranberry Gose and Fernet Branca.  Using the coupon code SHEEPANDWOOL at checkout on Ravelry will provide you with 25% off her patterns until the weekend's over on October 19th, 2019.
Her newest hat pattern, Heady Topper can be knit up with a couple of skeins of our Mountain Mohair, shown on her husband Craig, above in the Balsam color.
And our most exciting news for you this week, is our Felix-along meet-up that we have planned for Saturday October 19th at the New York Sheep & Wool festival. We'd like to invite you to come meet  Amy Christoffers who designed the Felix Pullover and Felix Cardigan that many of us are happily working on.  Bring your project in whatever form it is in and share your progress with the group.
We'll be gathering on the grassy area near Building 22 (where our booth is) at 2:00 pm on Saturday.  We hope that you can come join the fun!