We have been busy as bees this summer working on new patterns to introduce to you this Fall.  We wanted to share a sneak peek of some of the offerings that we'll be able to share with you in greater detail next month!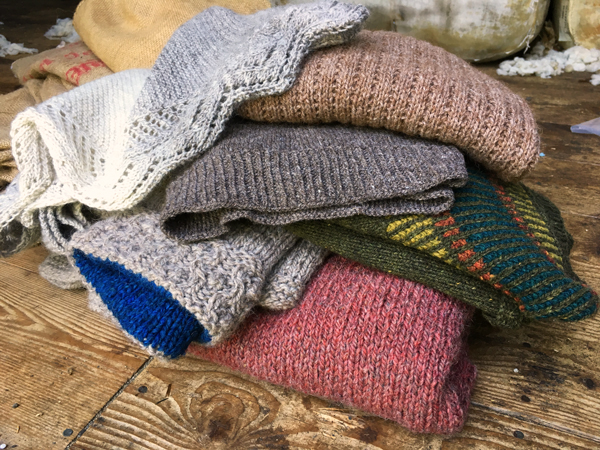 From top to bottom:
Cap Sease has designed a new crescent shawl for our Simply Fine that combines lushly soft garter stitch texture with a delicate lace border.
Maureen is working on a mistake rib dress (with darling patch pockets) that looks fantastic knit up with Alpaca Elegance.
Kate has created an airy fingering weight cardigan bordered in a twisted rib featuring our new 100% wool Sock Art Lana.
There is a yoked pullover that will frame your face in stunning color achieved with simple ribbing that makes our complimentary shades of Mewesic look their best!
And last but not least is a sturdy pullover featuring cabled details and pops of contrasting color that can be knit up in a flash with two new shades of Yarn Over.  This bulky yarn (that will also become available next month) uses up remnants of wool from our production process to ensure that we are making the best use of all of our available material.
We're polishing the details of these patterns and having them test knit to ensure your success.  We plan to have them available on our website over Labor Day weekend, and you'll be able to see, touch (and smell) them in person in our shop and at the upcoming Fiber Festivals that we'll be attending in the months to come.
Wisconsin Sheep and Wool Festival
September 8 – 11, 2016
Jefferson, Wisconsin
Vermont Sheep & Wool Festival
October 1 – 2, 2016
Tunbridge, VT
New York Sheep & Wool Festival
October 15 – 16, 2016
Rhinebeck, NY
Southeastern Animal Fiber Fair
October 28 – 30 2016
Fletcher, NC
Mark your calendars and get ready to cast on for some terrific new patterns!