We're digging out from our first snow storm of the season which makes this the perfect week to introduce you to our newest sweater pattern: Bea's Cardigan, designed by Melissa Johnson.  This beautiful sweater pattern is named for one of Melissa's former students and now dear friend.
This sideways cardigan features geometric patterns inspired by African motifs and Fibonacci sequence stripes on the sleeves.  The sweater is knit in two pieces from sleeve cuff to center of body, then joined at center back with three needle bind off. Sleeve length can be easily adjusted.  A gauge swatch is suggested so that you can make adjustments that will ensure a perfect fit.
Melissa has a knack for creating stunning color work garments using her favorite Spinnery yarn, Mountain Mohair.  The soft halo of the 70/30 fiber blend creates especially comforting fabric; and we love how the feminine fuzziness beautifully balances the crisp and clean geometric designs.
Her pattern includes a size range from approximately 36 (42, 48)" / 91 (106, 121) cm finished chest measurement.  The pattern calls for Mountain Mohair 2 (3, 3) skeins color A, 4 (5, 6) skeins color B, 1 (2, 2) skeins color C, 3 (3, 4) skeins color D. Shown above in (A) Jet Black, (B) Edelweiss, (C) Raven, and (D) Blizzard Mountain Mohair.
The pattern includes a schematic to clarify the unusual construction and charts for all of the color work.  It is perfect for knitters who are still developing their stranded color work skills because each design calls for an easily managed two colors at a time within a row.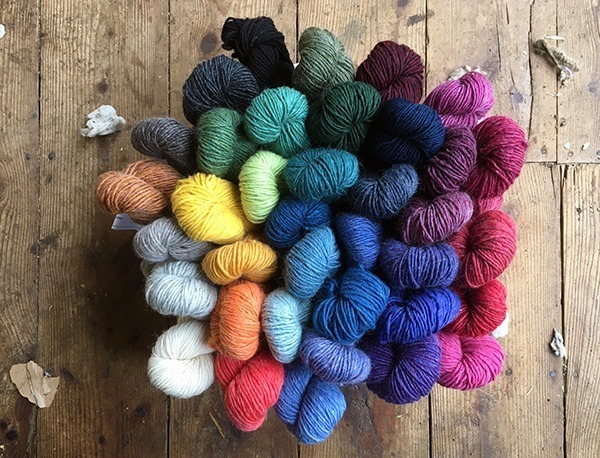 And just think of the color combinations that can be created with the myriad colors available in the Mountain Mohair line! You could work soft neutrals as Melissa did with her sample, or you could play with a brighter tonal version working with four shades of blue, green or purple.  The possibilities make our mouth water.
We hope that you take a closer look at Bea's Cardigan.  It is just what we want to curl up in this week as the snow begins to fly!