We've collected a scrapbook of recently finished mid-weight sweaters to share with you this weekend.  These may inspire you to cast on projects that could be ready to be worn this fall.
Martha recently finished a gorgeous version of Cap Sease's Snowy Woods Sweater.  She shared the following on her project page, "I have been a fan of Cotton Comfort and Green Mountain Spinnery for years. I was surprised when I ran across their booth in Asheville at the Southeastern Animal Fiber Fair. I saw my chance to knit up something in Cotton Comfort. I fell in love with the Snowy Woods Sweater which was exhibited and bought up enough yarn to make it."
As she started her project, she decided to go with a totally different color scheme than she initially selected in our booth.  We are thrilled with the new direction.  This gorgeous warm gold is a perfect choice and what a perfect fit!
Our Ravelry friend June personalized a version of the Ikinngut Pullover by Jennifer Dassau.  This pattern is among the dozen included in the pages of our newest pattern collection: At the Spinnery.  It is also currently available as an individual PDF through Ravelry.
June detailed her project modifications as follows, "I chose to go up a size or two from what I usually wear as I wanted something roomy enough to hang out in at home. That's exactly what I got, but it's also sophisticated enough to wear out and not feel sloppy.  The only modification I made was to knit the sleeves longer, to reach my wrists, not the 3/4 ones specified."
She also offered a tip to other knitters interested in working on this project, "I recommend plotting out the increases on the yoke on graph paper, as I did, as I found the written instructions on that section not as clear as I would have liked."
Another Ravelry friend Maureen used Spinnery Mewesic with some other DK yarn selections to test a new pattern.  Her Espresso Tee (designed by This.Bird.Knits) is a vision of rich autumnal color work.  Can't you just imagine the apple cider?
What you can't tell from this lovely photo of her, is that the sweater is short sleeved!  This makes it perfect for shoulder season layering.  The pattern's color work calls for less than 60 yards of three contrast colors.  We think that it is a perfect option to use up some miscellaneous leftovers.
Another DK weight sweater that calls for some color work is Tecumseh,  that was originally published by Caitlin Hunter in the spring of 2018.  Rhonda recently finished a stunning version that uses our deliciously dark Norwegian Wood Mewesic as a dramatic contrast to the brighter shades of her contrast color selections.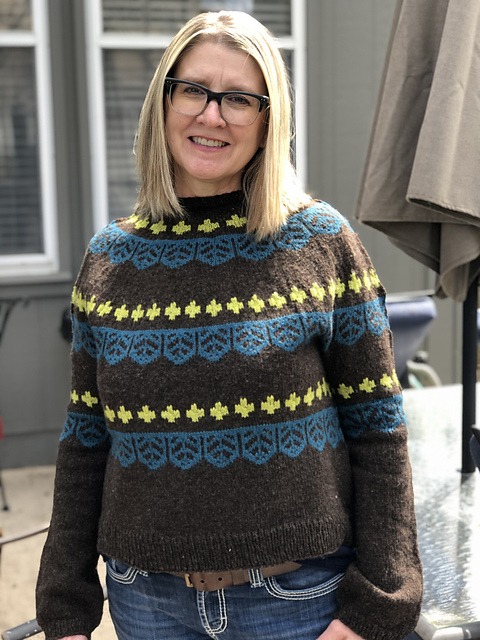 Meghan who works at the Spinnery is making a similar sweater as a gift for a friend that pairs that delicious dark brown for her main color with a soft pale green Mint Cotton Comfort and a bold coral pink of Passionate Kisses Mewesic!  We love how these three colors work with one another.
Last but not least, is a lovely Weekender (designed by Andrea Mowry) that was knit up by our friend Elena with our Cotton Comfort.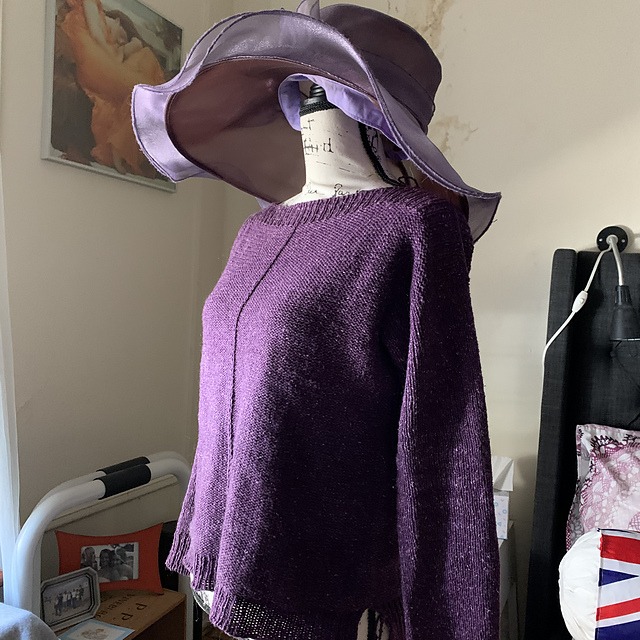 The yarn's tweedy texture adds some beautiful visual interest to the reverse stockinette fabric of this design.  For those of you looking for an even lighter sweater, you may want to take a look at the fingering weight version of this design (The Weekender Light) that Andrea published last month.
We hope that these snapshots provide you with some food for thought.  Autumn will be here before we know it and it will be sweater weather soon!