A few weeks ago Kate finished a beautiful stranded cowl designed by Ysolda Teague: Pyukleen.  We love the way this cowl knit up with 6 gorgeous tweedy our Mewesic.
She had leftovers of four of the colors that were close to complete skeins.  She and Larisa spent some time on Ravelry looking for projects that can be finished with about 150 yards or less of DK weight yarn.  We found some great accessory patterns that can be quickly finished with singles skeins that you may want to consider for your last minute knitted gifts.
With the first of December just a couple of days away, we know that there is no time to waste.
Eric's Glovelets are a perfect gift!  These wrist warmers can be knit up with a skein or less of Spinnery Mewesic.  They are shown above in the Atlantis color.  You could also use a single skein of Mountain Mohair for a denser, warmer pair.
Kate knit up a version of Olga Buraya-Kefelian's Sabi Hat with a single skein of Brickhouse.  This beanie is a fun knit whose crisp stitch pattern might appeal to both men and women on your gift list.
The "high tide" beanie version of the new Spinnery Ebb Tide Hats can be knit up with less than a skein's worth of Mewesic.  You can find more information in last week's post.
And if you are willing to splurge on two skeins, you can make a Jul Hat designed by Jenny Gordy.  Larisa knit hers up with just over a single skein of the Diamonds & Rust color.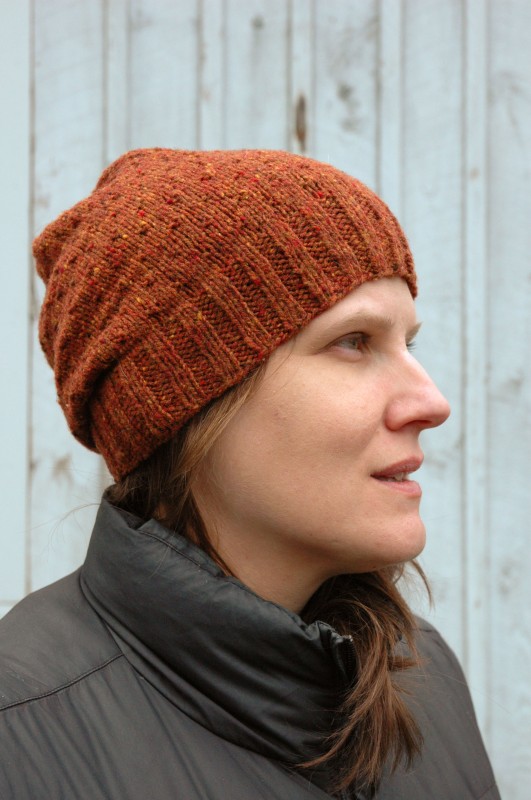 Many of us at the Spinnery are busy knitting up our own collection of hand made gifts and we'll have more project photos and suggestions to share with you as we approach the holidays.
We hope that you'll give us a call at 800-321-9665 if you'd like us to provide you with some additional suggestions or better yet, we hope that you'll have a chance to visit in person.  We' look forward to seeing you soon.