We are setting up shop at Rhinebeck this weekend.  We look forward to this festival every fall.  The food, yarn, sheep and wool bring thousands of fiber enthusiasts to this gathering, but it is the mystique of the "Rhinebeck Sweater" that inspires all of us to knit a new garment each year.
We'll have some great new samples with us in our booth and we hope that you'll stop by to check out: Kristen, the Exit 4 Tunic ,  and Amy Christoffer's Coolidge Cardigan, among others.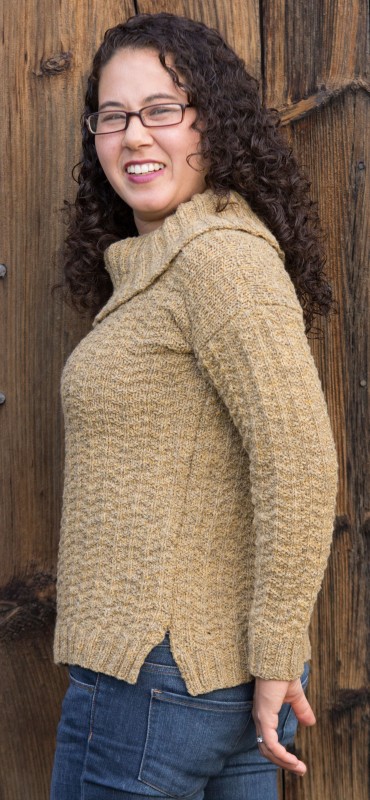 We'll also be debuting Suzanne Allen's new sweater: the White Pine Pullover.  White Pines are a native Vermont tree once used for the masts of ships.  The strong vertical pine-like stitch pattern compliments the soft curve of a generous cowl neck on this comforting pullover.  Designed with lazy weekends in mind, the White Pine Pullover combines cozy comfort with effortless style.   
Suzanne has paired a light weight textured fabric with an over-sized silhouette that can be dressed up or down.  Equally perfect with jeans or leggings, you'll want to snuggle into the generous cowl neck when temperatures drop.   This pullover is knit flat from the bottom up and seamed together.  Side vents and set in sleeves provide the perfect balance between relaxed ease and a flattering fit.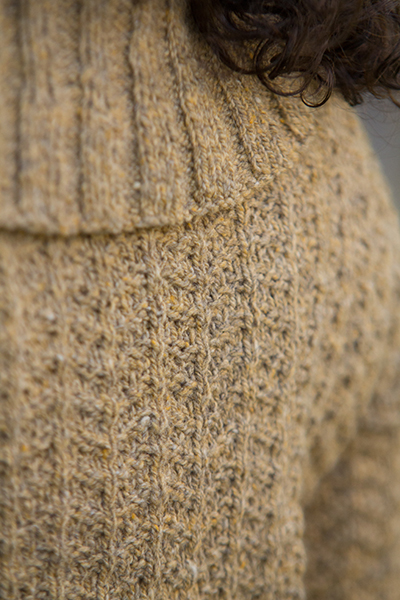 The pattern includes a generous range of seven sizes from 31″ – 55″ busts and it calls for 6 – 11 skeins of DK weight yarn such as the Sandman Mewesic shown above.
We hope that we'll see you this weekend at the festival.  We can't wait to see what you've been working on and perhaps get you what you need for a new "Rhinebeck Sweater" that will be the hit of next year's show.