Temperatures are hovering around zero here in Putney, Vermont this week and it doesn't look as though the mercury will be rising for days.  When it gets this chilly, we bundle up in our warmest woolens, and for some of us that means the bulkier the better.
So this week we're launching an exciting new shade of Yarn Over, our bulky weight 2-ply yarn that knits up into delightfully cozy winter wear.  We'd like to introduce you to Aurora Borealis!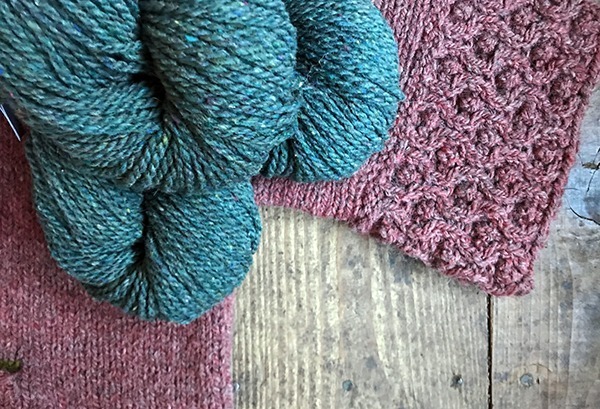 Yarn Over is created with carded wool left over from the production of a range of Spinnery yarns that is blended in the carding process to create a unique tweedy color. Aurora Borealis includes a larger percentage of bale dyed medium wool for a muted teal color, speckled with every hue in the rainbow.
Shown above is a cabled cuff of the the Beekeeper's Smock, one of several Spinnery patterns designed for this yarn.  This popular oversized cropped pullover has been a hit at this year's Sheep and Wool festivals, and many of our customers were hoping for additional color options to work with.  You might also want to take a look at the  Spanish Tunic pattern which has a more unisex appeal.
A couple of patterns that were designed for Capricorn (our single ply bulky yarn that contains wool and mohair) would also knit up beautifully with Yarn Over.  The Capricloak designed by Maureen Clark is a swingy circular poncho; and the Tile Jacket is just what you'd want to wear while gathering more wood for the wood stove.
Any project you choose to use Yarn Over for will knit up quickly.  We recommend a gauge of 3 stitches to the inch using US 10/ 6mm needles.  Paired with the neutral grey Fog color, you could experiment with some stranded color work or intarsia and gain some new skills for the new year. What fun!
From all of us here at the Spinnery we wish you a cozy and delightful New Years.  We look forward to seeing what you make of our skeins in 2018!