Carol Feller's Short Row Knits was published earlier this fall.  It's subtitle, "A Master workshop with 20 learn as you knit projects" beautifully distinguishes this book as one that you will want to experience, not just read.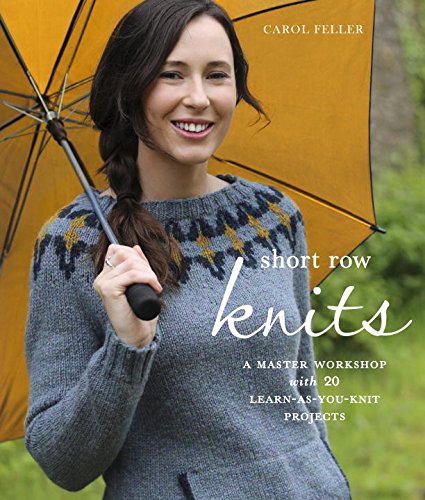 It's clear concise descriptions of both the why and the how of various short row techniques can be best absorbed by picking up your needles and working the stitches along with Carol's prose.  We find that getting new techniques into our muscle memory makes them far more likely to transition from theory into daily practice.
And Carol makes a very compelling argument for using these techniques.  Adding short row curves into patterns can give us the ability to customize the fit of any pattern without math. Gasp!  Yep, for those of you who aren't a fan of "mathy" modifications, short rows can provide customized shaping without changing your stitch count.
The book is filled with clear illustrations, beautifully crisp photography and careful descriptions that make it seem as though she's right by your side guiding you through the basics.  And that's not all.
Included in the book are 20 beautiful patterns give you a chance to work with these concepts while creating wonderfully wearable and gift-able knits.  The collection includes sweaters and shawls as well as clever hats and socks and a darling woolen ball, Chirripo, that is worked side to side.
This wonderful book belongs in your project bag, not your bookshelf.  We hope that you'll give yourself the time to really play with Carol's tips and tricks.  Mastery of these short row techniques will dramatically change your craft for the better.
And we are pleased to announce that we have a copy to give to a lucky winner!  This weekend, add a comment to our Facebook page and we'll pick a winner at random on Monday November 2nd.  We hope that you'll share photos and details of your favorite knitwear projects that make use of short rows.
We look forward to learning about your successes and triumphs with short rows and we know that with Carol's guidance all of us will have more of those to share in the future!