Cap Sease has designed a new cardigan pattern that knits up into a perfect sweater for Spring.  Tekle is knit up in Spinnery Mewesic.  Shown here in our popular Blue Bayou color, it makes for a beautifully textured swingy layering piece whose design subtly shifts as you move.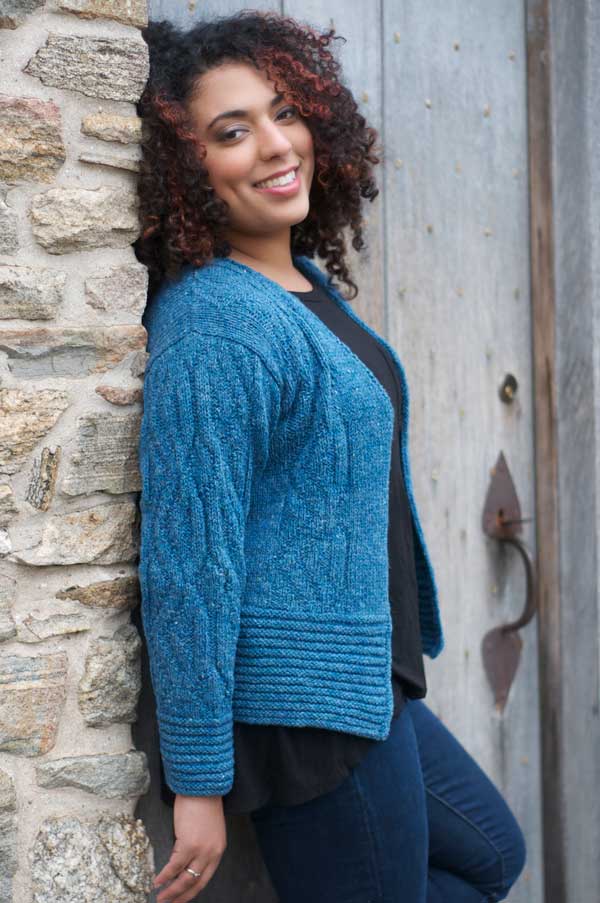 The pattern includes a generous range of sizes extending from 34 to 54 inch bust measurements.  It uses a bottom up construction with sleeves that are picked up at shoulder and worked towards the wrist. A short band is added to finish the neckline and front of the sweater where buttons could be added if you'd prefer.  But we love the casual look of the open sweater as Cap envisioned it.
You could easily substitute some of our other DK weight yarn options in this pattern.  Using Sylvan Spirit would increase the drape of the finished piece and make the provide the textured stitches with a crisp pop.  Cotton Comfort would make for a lighter sweater that could extend the sweater's wear further into warmer weather or for warmer climates.  And choosing Alpaca Elegance would result in a warmer sweater that could be perfect for Autumn or a better choice for folks who tend to easily catch a chill.
For those of you who may be curious, the design was named after a new arrival in Cap's family.  This new addition to the Spinnery family of patterns is a welcome one, and we hope that you are as excited by this pattern as we are!