Summertime brings with it a call from the open road.  For those of us free from the demands of a working farm, a desire to travel gets us planning trips to visit friends, family, and new locales.  And with the I-91 Shop Hop just two weeks away, all of us knitters at the Spinnery are planning projects that will travel with us, for short day trips or longer excursions.
Maureen has a trip to Maine scheduled next week and her travel project is already on her needles.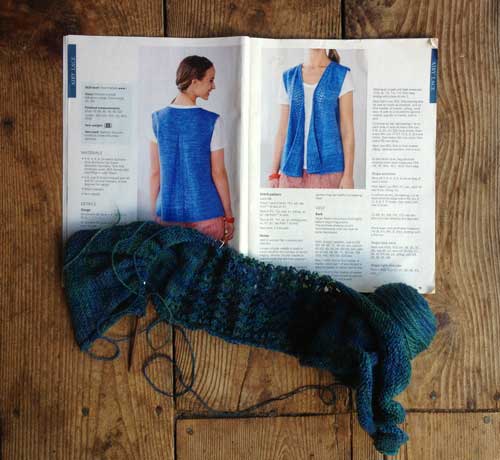 She has begun knitting the Swingy Lace Vest designed by Jean Clement and published in the Summer edition of Love of Knitting.  The pattern calls for 3-5 skeins of Sock Art Forest in the Water colorway and our dyer Melissa just dropped off a fresh new batch of the beautiful blue skeins.
Maureen has chosen a deeper teal color that more closely matches the two other teal projects that are currently on her needles.  Funny how that can happen…
Larisa has already started her travel project as well.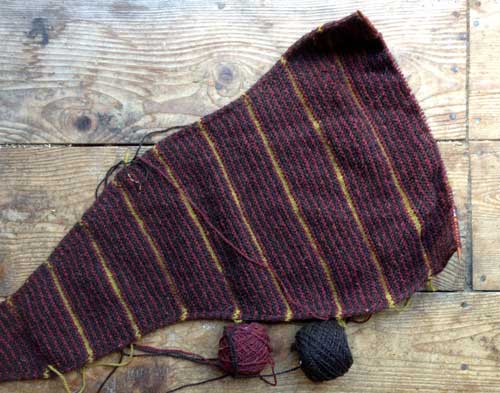 This is Zig to the Zag by Stephen West.  Larisa is using the Dark Roast and Rosehip colors of Alpaca Elegance and Mean Mr. Mustard Mewesic as her pop stripe color.
This garter stitch scarf is an ideal travel project being small enough to fit on her lap and a very easy pattern repeat that doesn't require much concentration.  This leaves Larisa free to enjoy the scenery and help navigate on the day trips she often makes with her husband around New England.
Kate has a week long adventure to Alaska planned for late July and so is still in the planning stages of her travel project.  She currently has two contenders that have captured her fancy.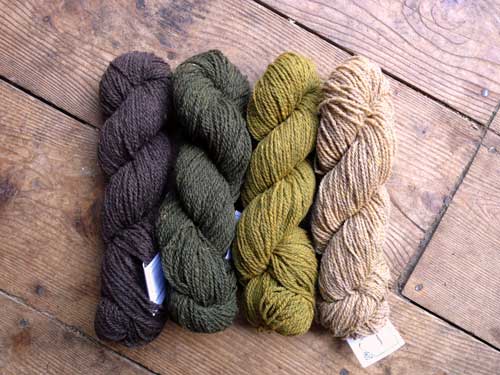 The first is a potential Rhinebeck sweater. Inspired by the project photos of one of the Spinnery's Ravelry friends, Kate is thinking about casting on for an Autumn inspired version of Hiro designed by Julia Farwell-Clay.  These hues of Spinnery Mewesic are going to look amazing blended together in a pixelated circular yoke (left to right: Norwegian Wood, Evergreen, Mean Mr. Mustard, and Sandman).
But she recognizes that a smaller project might be easier to pack.
Hence project option number two: Brooklyn Tweed's Ashby shawl to be knit with the Cappuccino color of Alpaca Elegance.  Delicious.
We hope that your summer travels have you headed our way.  We'd love to see you during the Shop Hop or any time that brings you to the Spinnery's doors.  Time permitting, we can offer you a tour of our production facility giving you a chance to see all the work that goes into our skeins before they are ever wound and ready to knit.
Please share your project photos and your travel snapshots on our Facebook page or on our Ravelry Group discussion thread.  We'd love to see where you're headed and what you're working on!