In celebration of the first hints of Spring that have appeared in Vermont this week, we have a new pattern to share with you that has made our winter months more colorful.  We've been hard at work over the past several weeks knitting up samples that have made us feel like artists.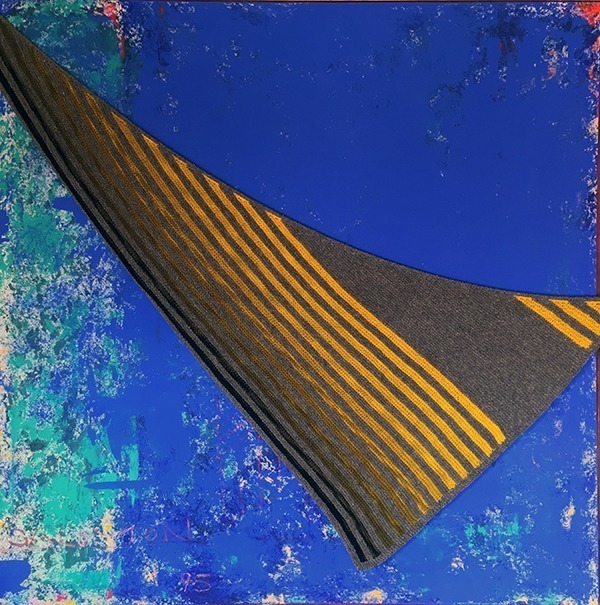 Our Expressionist Shawl pairs our tweedy neutral Sock Art Lana with Fiber Optic Yarns Foot Notes Paintbox gradients to spectacular effect.  Shown here, it's knit up with 2 skeins of Lana in the Gris colorway and the Light Into Darkness gradient set.  Kate worked her stripes moving from dark to light with the lengthening spring days in mind as she worked.
It's simple asymmetrical shape is constructed with a lengthy cast on and diminishing rows that speed your progress.  The garter stitch fabric is lofty and elastic, and oh so comforting to wrap up with.
It's a perfect project for social knitting or a lengthy trip.  A bit of intarsia at one end keeps things interesting and you'll love watching the progression of colors as you work through Kimber's mouthwatering gradient shades.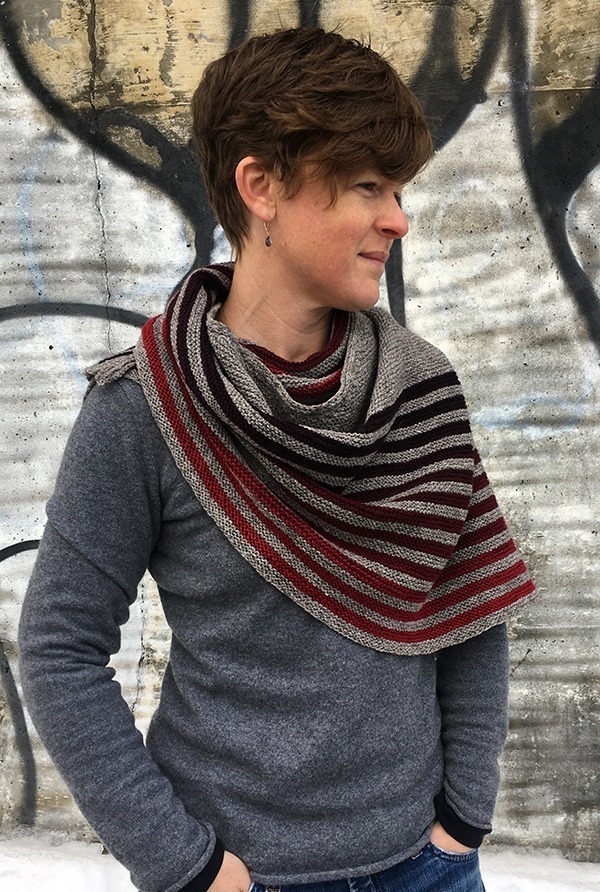 This second sample was made with Lana in the lighter Plateada colorway and the Onyx to Crimson gradient.  Jenny created this shawl working her stripes from light to dark ensuring that her favorite shade of crimson would make the boldest impression on the longest edge of her shawl.  As you can see, the shawl's generous dimensions (56″ x 32″) make it a cozy fit.
The hardest part of this project will be selecting which paintbox colorway to play with!  We hope that you'll select a spectrum of your favorite colors, or one that recalls a special place or time. Your shawl will become a beautiful expression of what you love.
Our friends Kimber and Ellie of Fiber Optic Yarns are debuting their stunning samples of the Expressionist Shawl this weekend at their booth at the DFW Fiber Fest in Dallas Texas.  We hope that if you are in that area, you'll have a chance to stop by and check out their works of art in person.
We'll be debuting our samples later this month at the Spinnery booth at Stitches United in Hartford, CT; and would love to share the fun of this project with you there.  In the meantime, we hope that your days ahead are made more colorful with beautiful knits and spring blossoms.