We have a new FREE hat pattern to share with you to celebrate the holiday season!  Our Thermal Cap  pattern is one that you may want to cast on for before year's end.
This unisex slouchy toque is a perfect pattern for beginner knitters comfortable working in the round and working k2tog decreases.  Those garter stitch ridges create a soft waffled texture that acts as a thermal layer to keep you cozy without bulk.  Knit up with our fingering weight Simply Fine, this hat is as light as a feather and almost as warm as down.
And best of all, a single skein provides you with enough yardage to make two!  You'll be able to knit up one for yourself and a second as a gift.  What better way to celebrate the holidays than with an offering of warmth?
This yarn combines premium kid mohair with the finest wool to produce a singly ply fingering weight yarn that you'll enjoy working with.  Fibers for this yarn are GREENSPUN using vegetable based soaps and oils in the processing and then washed gently to preserve the natural sheen and resilience. This yarn will bloom and become fuzzier with use.
These natural undyed shades create beautiful neutrals that will coordinate with almost any winter coat. And the Variegated color way (show in the middle skein above and in the completed samples below) can create a soft ombre effect that makes the project more sophisticated and interesting.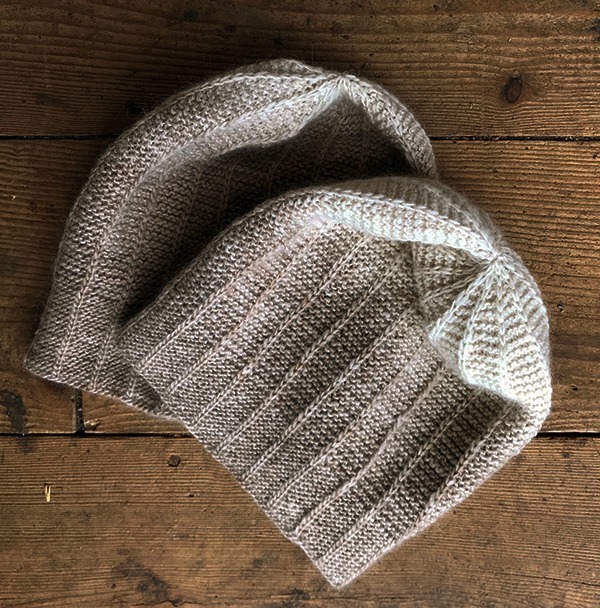 It's just a matter of finding the right spot in the skein for your cast on edge.
The brim of the hat has a greater elasticity due to the use of a stretchy cast on and a smaller needle for a snugger gauge.  You'll find that by using an elastic cast on like the German Twisted method, the 18″ circumference has enough give to comfortably fit teen and adult heads ranging from 20 – 23″.  If you're not already familiar with this technique, you can find an instructional youtube video here.
We hope that you enjoy this little holiday gift from all of us here at the Spinnery.  The FREE Thermal Cap  pattern is one that we hope you'll want to knit again and again!