This week has been a steamy one here in the Northeast with lots of (welcome) rain.  It has us wishing for a smaller project on our needles and Amy Christoffers' newest pattern delivers!  This week, she introduced her Hen of the Wood shawl.  It may just be the perfect travel project.
"The Hen of the Wood Shawl is a 1/2 Pi shawl- beginning at the center top and worked down. It is knitted in a garter stitch lace, a combination Amy loves for being both rugged and delicate at the same time- perfect to show off the beautiful rustic qualities of this woolen- spun fine wool. Lana has a subtle tweedy 2-tone color created by blending bale dyed wool in the carding process. This 2-ply yarn is bouncy and soft and minimally processed to preserve wool's natural resilience."
The pattern calls for 2 skeins of Lana and so will weigh just 7 ounces for a featherweight accessory that will be a pleasure to wear, even in the height of summer.  The generous dimensions of Length – 68" across and Depth- 24" could be adjusted by more aggressive blocking, but we're confident that you'll prefer the more elastic fabric that results from blocking more gently.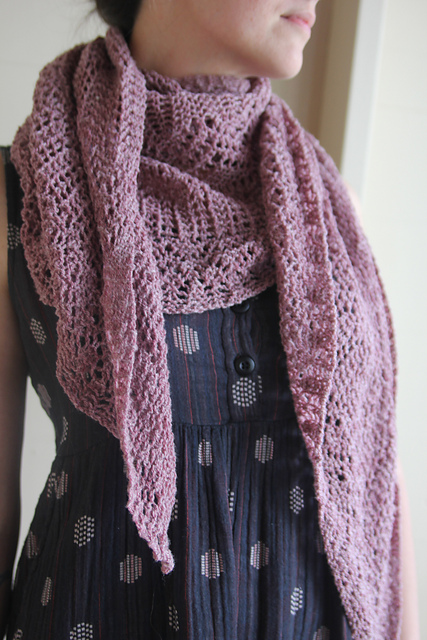 We love the way it looks all intertwined with the rich textures of the different lace patterns playing off one another.   Amy's pattern includes charts for the lace work, so you may want to use stitch markers and some highlighter tape to make the pattern even easier to follow.  We've found that lace repeats can make for delightful holiday knitting that are complex enough to be interesting for intermediate knitters but not so tricky as to require fierce concentration.
You'll find a little contest for a free copy of Amy's pattern this weekend on our Instagram feed.  We hope that you'll join in the fun!