A new pattern has been released by Annie Rowden this week.  We'd like to introduce you to Morning Mist made with Spinnery Cotton Comfort.
Larisa was among the lucky few test knitters who were given the opportunity to work on the pattern before its release.  She created a gorgeous version using the Juniper and Unbleached White colors.  It turned out beautifully and was a hit among the folks at the Maryland and New Hampshire Sheep & Wool Festivals that got a sneak peek of the finished project.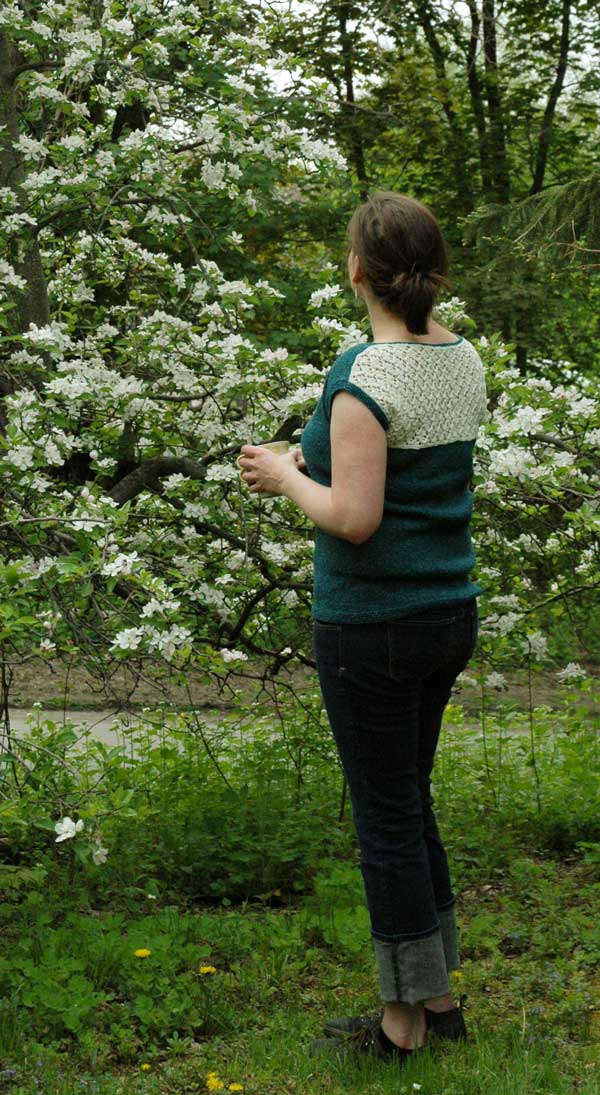 The pattern calls for just 5 skeins of yarn (3 of the main color and 2 for the lace).  The pattern has you starting with a provisional cast on so that you work the lace panel first in one direction and then in the other.  Once your lace is complete, you'll pick up stitches for your shoulders and work the front of the top back and forth until it is the same measurement as the bottom of the lace panel.  After picking up stitches across the bottom of your lace section, you'll continue to work your top in the round to the bottom hem.  It couldn't be neater.
Annie explains on the pattern page on Raverly, "I love lace back shirts, but chose a pattern that wasn't too open to avoid seeing straps underneath. The simple drop-shoulder body creates its own cap sleeves, making for quick knitting, and comfortable wearing. (Totally seamless!)"
We couldn't agree more.  This is a perfect pattern for early summer knitting and we hope that you'll consider casting on for one of your own!