One of our most popular children's sweater is the East Putney Aran that was included in our 99 Yarns book published in 2009.  This classic pullover pattern includes sizing for ages 2 – 12.
As you can imagine, it knits up quickly with between 4 and 6 skeins of our DK weight yarn options: New Mexico Organic, Cotton Comfort, Mewesic, Sylvan Spirit or Alpaca Elegance.
We are pleased to tell you that now we have an adult version of this sweater!  The Adult East Putney Aran includes sizing for bust sizes 38′ – 50″.  This often requested pattern has been drafted by Melissa Johnson so that now all of us can can have one of our own.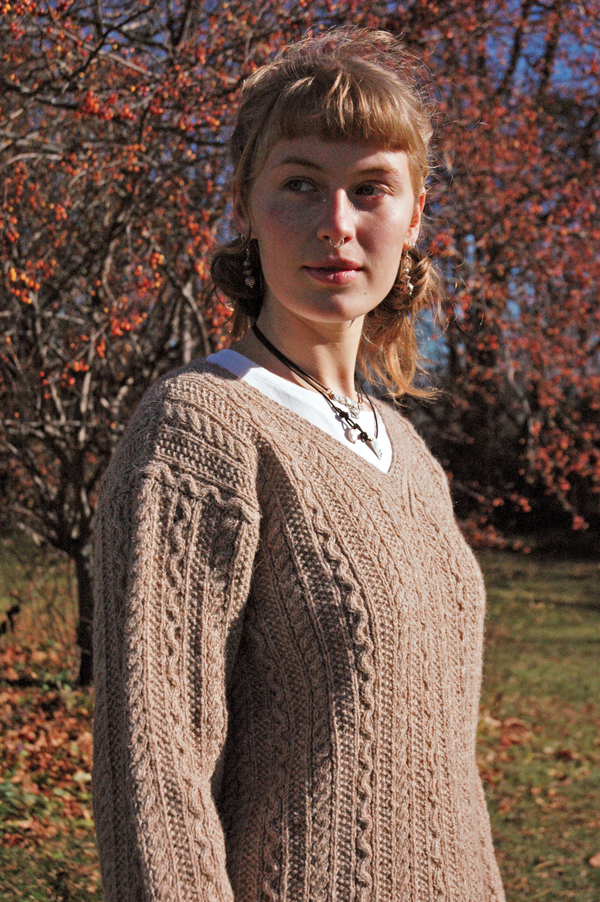 The pattern is a perfect one for knitters eager to try their hand on an Aran knit and would like a great beginner pattern to get started.  The pattern includes two different cable motifs separated by columns of seed stitch making it ideal for newer knitters.
The sweater features a bottom-up seamed construction with a modified drop shoulder.  The stitch pattern is charted for easy reading, and as always, we are available at the Spinnery for phone support.  We hope that you'll give it a try.
A lighter weight pullover such as this one will be a perfect addition to your wardrobe as temperatures get a bit warmer.  And with so many fun yarn options in mouthwatering colors, you may find yourself making more than just one!