This week Kristin Tendyke's new Goblet Cardigan has been pre-released by the folks at Interweave.  This pattern is part of a collection  from the designers featured in the upcoming Fall edition of Love of Knitting.  We love the classic lines of this sweater.
The Goblet Cardigan has a generous range of sizing options from 30¾ to 53½" bust circumference, buttoned. (the sweater shown above measures 38¼"; modeled with ¼" of positive ease.)
This classic cardigan uses the same Juniper Cotton Comfort yarn you saw featured here a few weeks ago when we announced the arrival of Maureen Clark's new Coming up Spring cardigan. (the sweater shown below measures 44″; modeled with 9″ of positive ease.)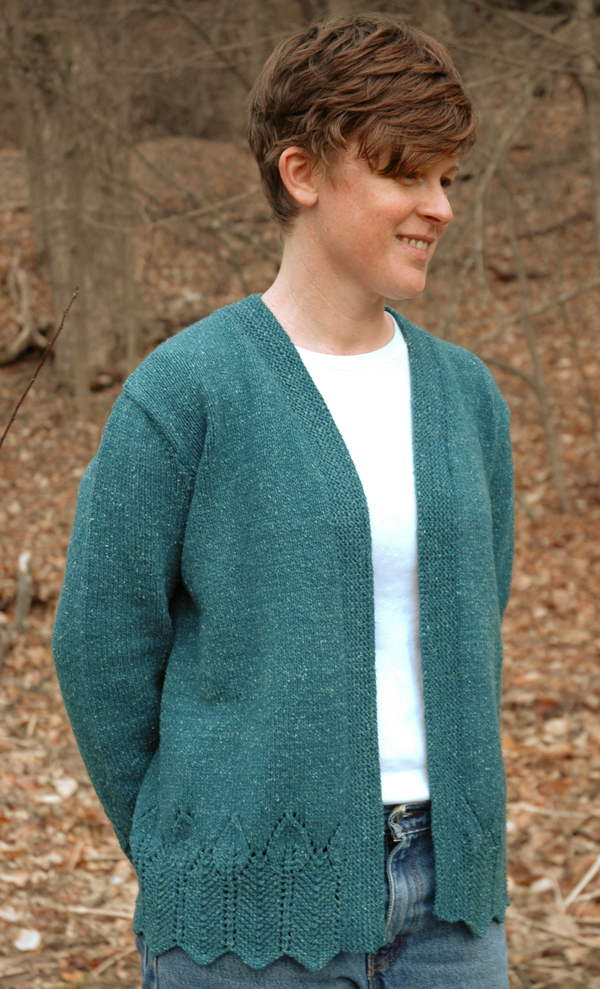 Both patterns can be knit up with between 7-11 skeins of the delightful soft and bouncy blend of 80% wool and 20% cotton.  The tweedy blend of fibers makes the stockinette sections of both sweaters come alive with interesting texture.  And both feature delicate lace details that make each of these sweaters more feminine and fun to knit.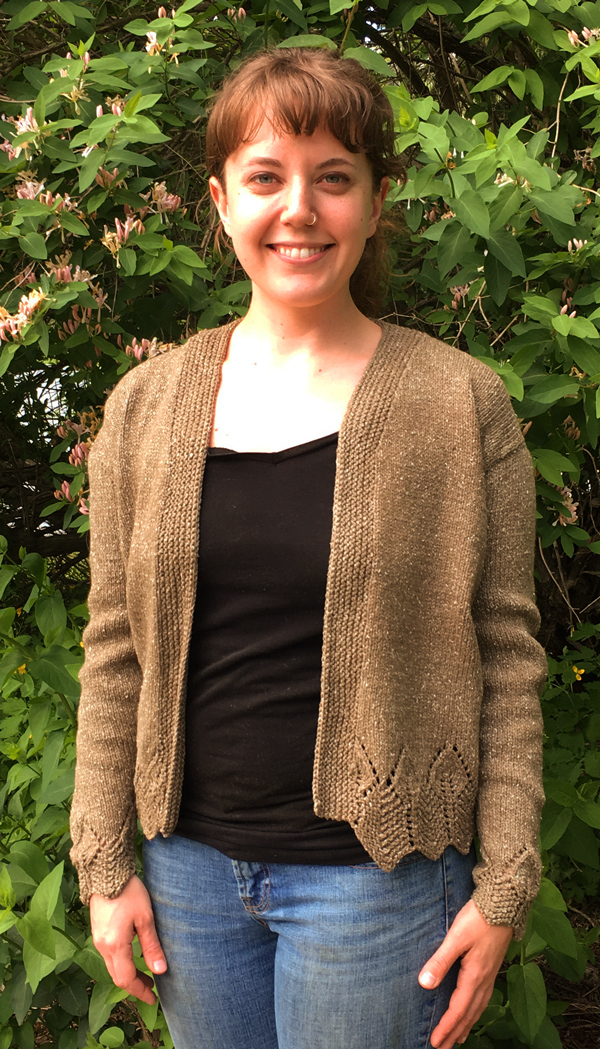 Meghan is shown with another version of the Coming Up Spring Cardigan knit at the 36″ bust size with 1½" of positive ease.  Her sweater features the Suede color of Cotton Comfort.  As you can see, knitting the pattern with less positive ease results in a very different fit that you may find more appealing.
We're delighted to have a choice of patterns to play with this summer that can be worked up so beautifully in our favorite summer DK weight yarn; and hope that you'll take a closer look at both of these projects for a wearable work of art of your own!