A couple of weeks ago we shared with our Facebook friends that Thea Colman (of Babycocktails fame) had published a new cardigan worth taking a look at.  Her new Greenbriar cardigan was designed with Spinnery Mewesic yarn.
Thea fell in love with these skeins when she and Ellen Mason came to the Spinnery to teach our Knitter's Weekend last fall.  As Thea says, "Green Mountain Spinnery's Mewesic yarn is a beautiful tweed with subtle flecks of color that is just gorgeous in cables and lace – although in stockinette, the shades and texture of the tweed shine as well! With that in mind, Greenbriar features both."  Thea worked her sweater up in the Mean Mr. Mustard color.
This top-down sweater uses the contiguous method to shape the shoulders.  It features one of Thea's characteristic lace panels that is beautifully charted and written for your preference.  "The lace is easier to work than you'd think, since the stems and leaves are bold – making errors easy to spot."
One of the reasons that Thea's patterns are such a pleasure to knit is due to her thorough testing process.  Several knitters work up a range of sizes of the pattern (in this case there are a total of 9 options) to ensure that there are no mistakes or surprises.  Many of Thea's test knitters chose to work up the pattern in several colors of Spinnery Mewesic, and we thought that you'd enjoy taking a look at how the sweater looks in a variety of colors.
Sandy used Passionate Kisses to make her sweater.  Sandy shared her thoughts about the yarn in her project notes, "THE perfect pairing for this sweater pattern – I couldn't stop taking close-up pics because I absolutely adore the little yellow flicks of color in the yarn!
I'm already looking through my stash, thinking about knitting another Greenbriar in another color – its's just the perfect sweater pattern – – easily customizable, a fun lace and cable pattern, and then gorgeous stockinette to show off a tweedy yarn."
Both Kim and Glenna used Purple Haze for their sweaters. Kim modified the length of her sleeves and added a bit of delicate lace from another of Thea's patterns: Eradour!
Bonnie used Blue Bayou to create a wardrobe classic in the perfect shade of washed denim.  "This is one of my favorite cardigans to date! The back lace/cable looks difficult but really isn't … Mewesic is one of my favorite yarns; I used it for my Ommegang and over a year later there is not a pill to be found." (Ommegang is a cowl necked pullover of Thea's design that can also be knit up beautifully in Mewesic.)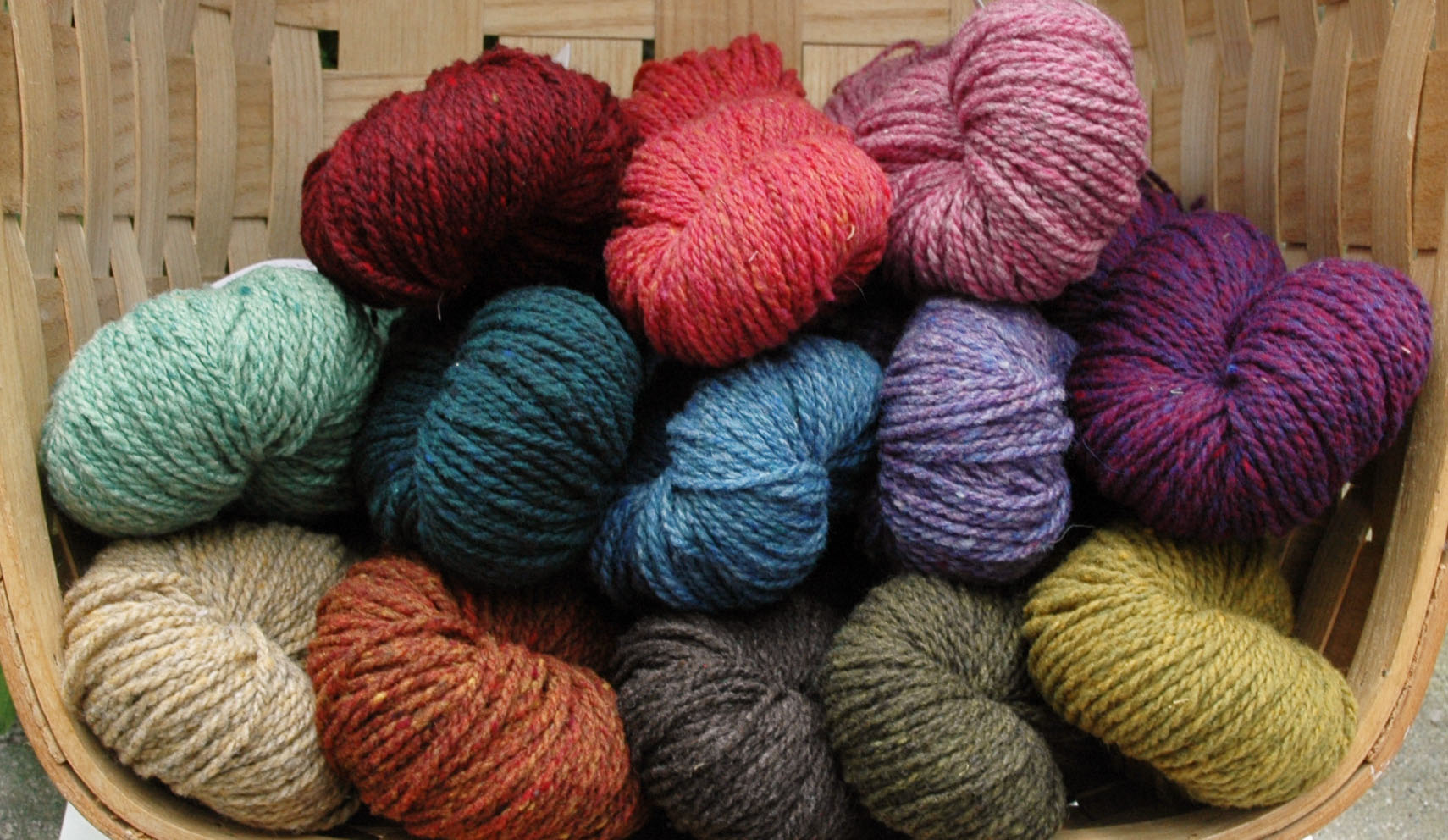 With a baker's dozen of colors to choose from, we hope that you'll find the perfect shade to work with to make a Greenbriar cardigan of your own.  We are all eager to have one; our spinner Larisa has a Mean Mr. Mustard version on her needles and Maureen is working on one in Atlantis.
And for our readers and friends, Thea's provided a special discount code to be used on Ravelry for $1 discount off of her Greenbriar pattern that is active until midnight Friday July 15th. Simply type in GMS when you check out, and you'll receive Thea's little gift!
We look forward to seeing more finished cardigans on Ravelry and hope to find yours among them!