In just a few weeks, studios all over Putney will be opening their doors to the public for the 38th annual Putney Craft Tour.  The weekend of Friday November 25th – Sunday November 27th is a great time to head our way.

"For the third year running, the Putney Craft Tour has been voted as one of Vermont's top ten winter events.  Once each year, just in time for holiday gift giving, our local craftsmen open their studios for the public to come and explore, to experience first-hand the making of our work, to understand our creative process, to hear our stories, and to purchase our unique crafts directly from us."
Our little village is chock full of craftsman that are eager to share their art work with you, and several will be offering demonstrations.  You'll find almost two dozen studios open from 10 am – 5 pm on all three days giving you a chance to learn more from the artists and possibly do a bit of holiday gift shopping as well.
Our local restaurants will be featuring locally sourced seasonal specials to tempt you and there are a couple of theater performances that you won't want to miss:
Next Stage Arts is proud to present Rosencrantz and Guildernstern are dead, an inventive retelling of Shakespeare's Hamlet, Nov 25, 26, 7:30 pm.
Sandglass Theater will be presenting Autumn Portraits, Side by Side which honors the changing of the seasons in a physical and metaphorical sense, Nov 25, 26, 7:30 pm.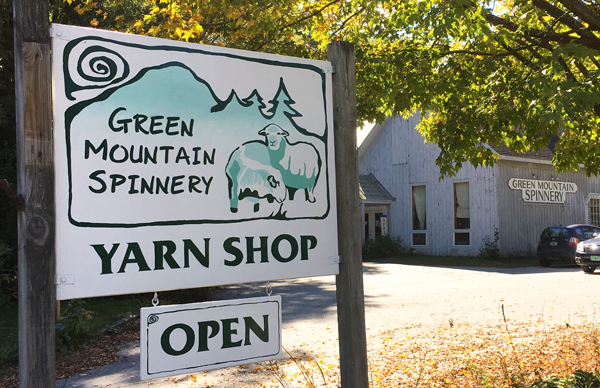 Here at the Spinnery, we'll be offering behind the scenes tours of our production floor.  You'll get the chance to walk through our mill and see the antique machinery we use to spin all of your favorite yarns!  From fleece to skein, it is a remarkable transformation that you'll enjoy learning more about.
Our shop will be filled with bright beautiful woolly skeins and knitted samples for you to enjoy.   Getting a chance to see and touch samples of our new patterns in person can make all the difference in the world.  Photos alone often can't capture how wearable and appealing our knitwear is.  You'll get some great new project ideas to keep you happily crafting through the winter months ahead.
We'll also be offering a special opportunity for you to purchase a handful of select samples.  Hand knits at these prices are very rare and a portion of the proceeds will go to benefit our local food shelter, the Putney Food Shelf.
So mark your calendars and we hope to see you soon!