The Spinnery was founded on a commitment to providing locally sourced yarns. We wanted to connect discriminating knitters and crocheters with yarns that are created from the beautiful fleeces that are grown on small farms across the country. Our link in this locavore chain means that all of us can make more informed choices in terms of the sustainability of the fibers we love.
This passion for responsible fiber has brought us to an interesting turning point. Today we have a very special yarn to introduce to you to that comes from the other side of the world. This yarn wasn't created from the fleeces of nearby animals, nor was it spun here at the Spinnery. However, due to the current global marketplace for fiber, this yarn impacts us and our environment.
Our friends at Ecologia drew our attention to the grasslands of Inner Mongolia with an award winning article written by Evan Osnos that was published in the Chicago Tribune.  (The article was written in 2006, but now eight years later, the facts remain undisputed and Ecologia's connections in the area have confirmed that progress has been slow in improving the situation.  A recently published article about the True Cost of Cashmere by Melissa Mall also confirms that  the damage caused by Cashmere goats is a current issue for the area).
America's insatiable appetite for inexpensive cashmere has wreaked havoc on the fragile ecosystem of the Alashan plateau. Shepherds there have felt the devastating results of over-grazing; and many have been forced out of the area or into other lines of work. And the goats are barely surviving on unsustainable diets of imported corn.
Even though the fragile ecosystem of the Alashan plateau is a world away, air monitors on the West Coast have been able to confirm rising pollution levels that are attributable to the loss of these rich grasslands.  Without the grass to anchor it in place, dust is blown thousands of miles away in sand storms that impact the air quality here in the US.
What may eventually save that fragile ecosystem is a revival of the local camel population. Bactrian (two hump) camels have long been a valuable animal in the Inner Mongolian ecosystem, providing wonderfully soft, warm fiber; as well as traditional transportation across the dunes that once were part of the Silk Road. These animals are well adapted to that rugged environment, and cause far less damage than goats by grazing higher up on fragile plants that are uprooted by a goat's voracious appetite and pointy hooves.
We all have a bewildering richness of choice in the fiber marketplace these days. It is possible for almost any item to be delivered to our doorstep. And it can be startling to recognize how our purchasing decisions can impact those who live half a world away.  When we spoke with Randy at Ecologia earlier this week, he confirmed that our new Alashan yarn encourages and provides a livelihood for  the remote herdsman who are eager to see a positive change in their part of the world.
We thought that this very special yarn was worth getting involved with. Purchasing, using, and sharing the story of this yarn will change the world; just a little, but enough to be worthwhile.  You can learn more about Ecologia's efforts to support the camel fiber industry of Inner Mongolia here.
We hope that you will check out the beautifully hand-dyed skeins that we have available while supplies last.  And a beautiful new Milan shawl pattern that Maureen designed in honor of this new arrival!  This exclusive pattern is our FREE gift to you with the purchase of Alashan.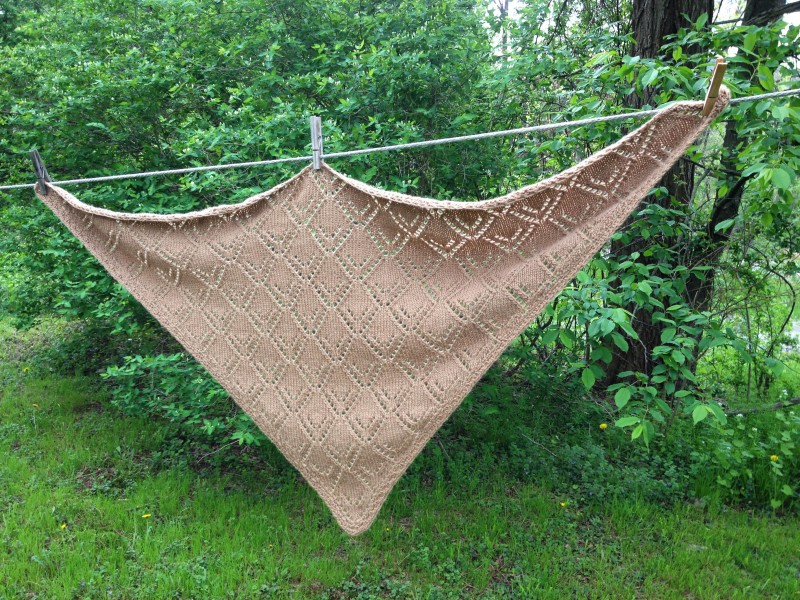 This yarn is perfect for luxuriously soft accessories that will become instant heirlooms.  The 350 yard skeins are more than enough for a shawl, scarf or cowl that will cradle your neck in downy warmth.  The stitch definition is terrific, and will remain crisp as the day it was knit for ages.  You may decide that it is just the thing for your special holiday gift this year.
We hope to share more photos of this lovely yarn in the future as new colors are developed and more skeins are knit up into beautiful samples.