A new shop sample joined our collection this week: the Walnut Vest for Men designed by Mary Beth Temple.
This vest was created with three colors of Spinnery Alpaca Elegance in the natural un-dyed range from Cream to Dark Roast.  The butter soft yarn makes a wonderful fabric that is warm and very fluid to the touch.
Mary Beth says that she "was inspired by classic menswear patterns — (she) wanted to create a crochet pattern that men would actually want to wear, rather than focusing on what the stitcher might want to stitch! Tunisian crochet with a DK weight yarn is perfect for classic pieces — it retains its shape but isn't stiff or bulky."
The decorative panel of basket weave pattern created with a combination of Tunisian Knit and Tunisian purl stitches is a great touch that adds visual interest, and draws the eye towards the broadest part of the chest to flatter the wearer.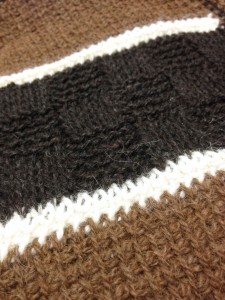 We hope that you can pop into the Spinnery shop if you are in the neighborhood, or passing through this month.  Seeing a sample up close and in person can make all the difference.  This vest might be a perfect choice for a holiday gift for a well-dressed someone on your list!