Maureen and Kate headed to Jefferson, Wisconsin earlier this week to bring a little bit of Putney, Vermont to the Midwest.  They are participating in the Wisconsin Sheep and Wool Festival that runs through this weekend.
They left the Spinnery on Tuesday morning and headed west.  They have been sharing photos on our Facebook page and so we've been able to track their progress across roughly 1,000 miles.  They are now smack dab in the middle of corn country where the surrounding fields are as green as our mountains.
They set up a booth in the "Country Store" of the Festival and are now showcasing our yarns in a space that has a bit more square footage than our shop here at the Spinnery.
The local fiber fans couldn't be more warmly welcoming and enthusiastic.  Friends new and old have been arriving at the booth to find out what's new and share what they have been working on.  Here you can see our friend Cathy with her newly finished Putney Mountain Vest.  This pattern is part of the Spinnery's most recent e-book publication: Green Mountain Weekend.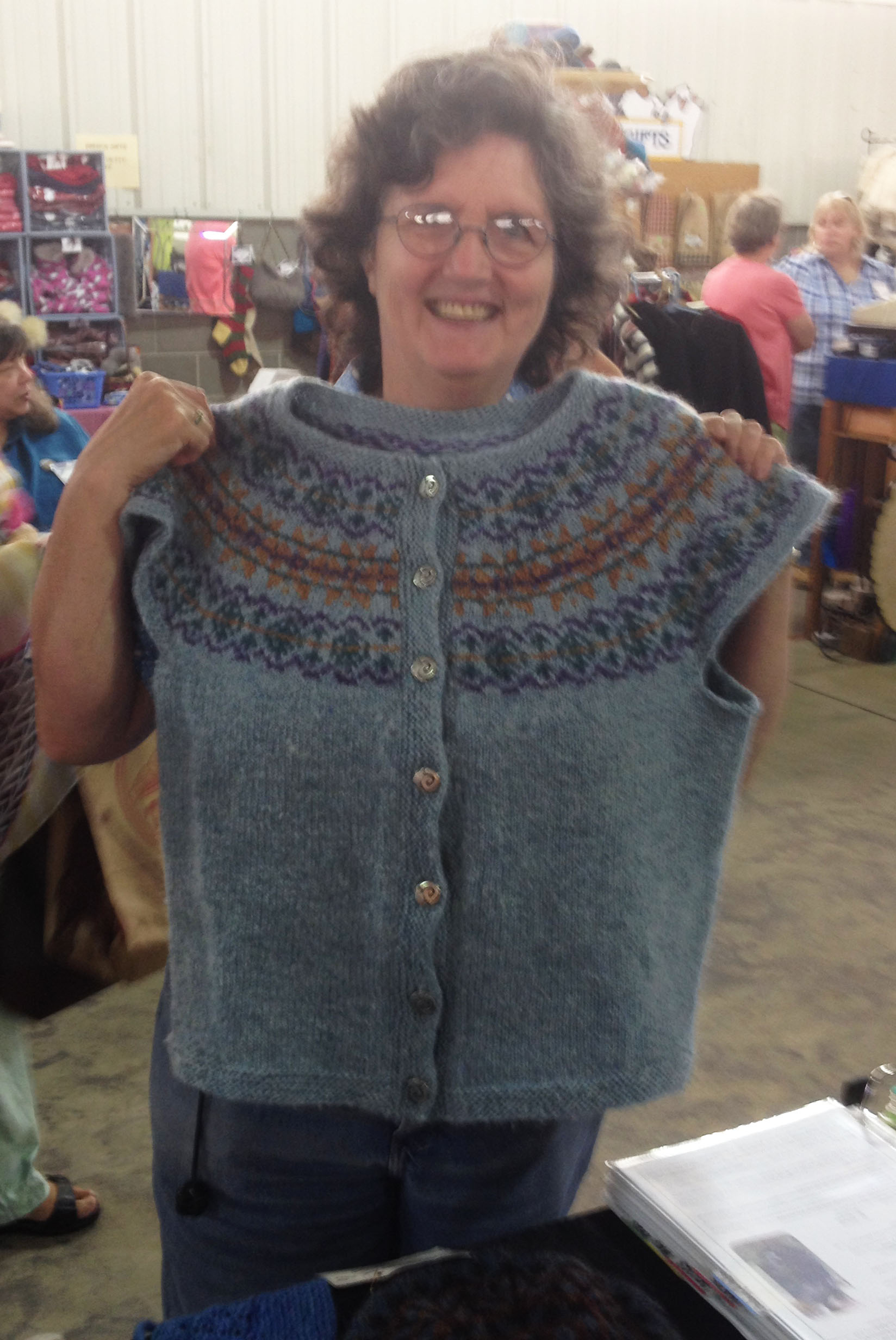 Beautiful yarn, roving and fleece are just the tip of the iceberg of what this festival has to offer visitors.  There are several barns temporarily housing all kinds of livestock that have traveled almost as far to showcase the special qualities of their breeds.  Throughout the weekend there will be shearing demonstrations, sheep dog trials, as well as a few carefully timed births of new lambs.
Kate missed the moment of this particular arrival, but she was able to find a new lamb with its mother nestled in the straw of their pen.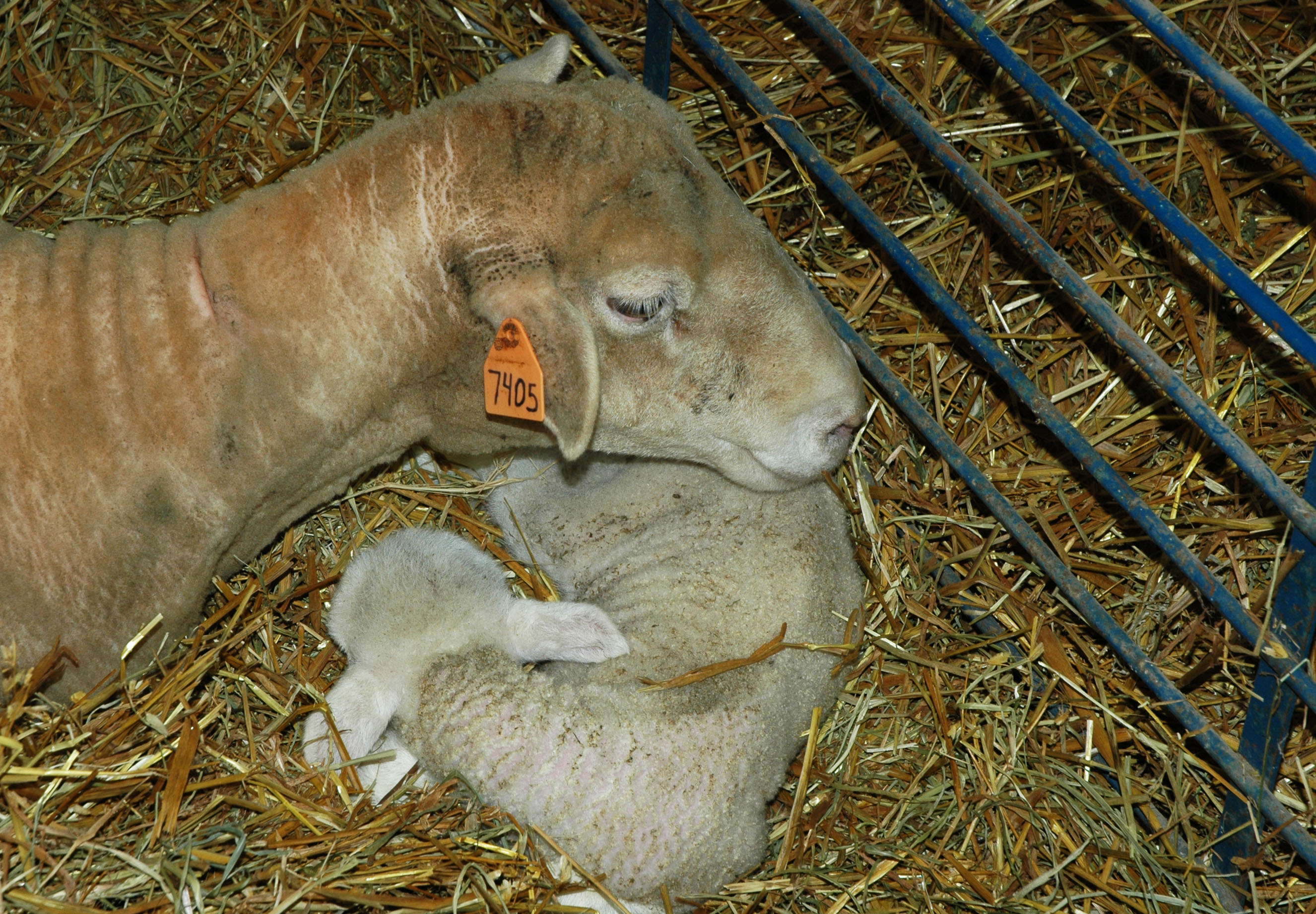 As their day ended and they headed off to dinner and a sound night's sleep, the girls were charmed by yet another surprise: a double rainbow made a brief appearance after a passing rain shower.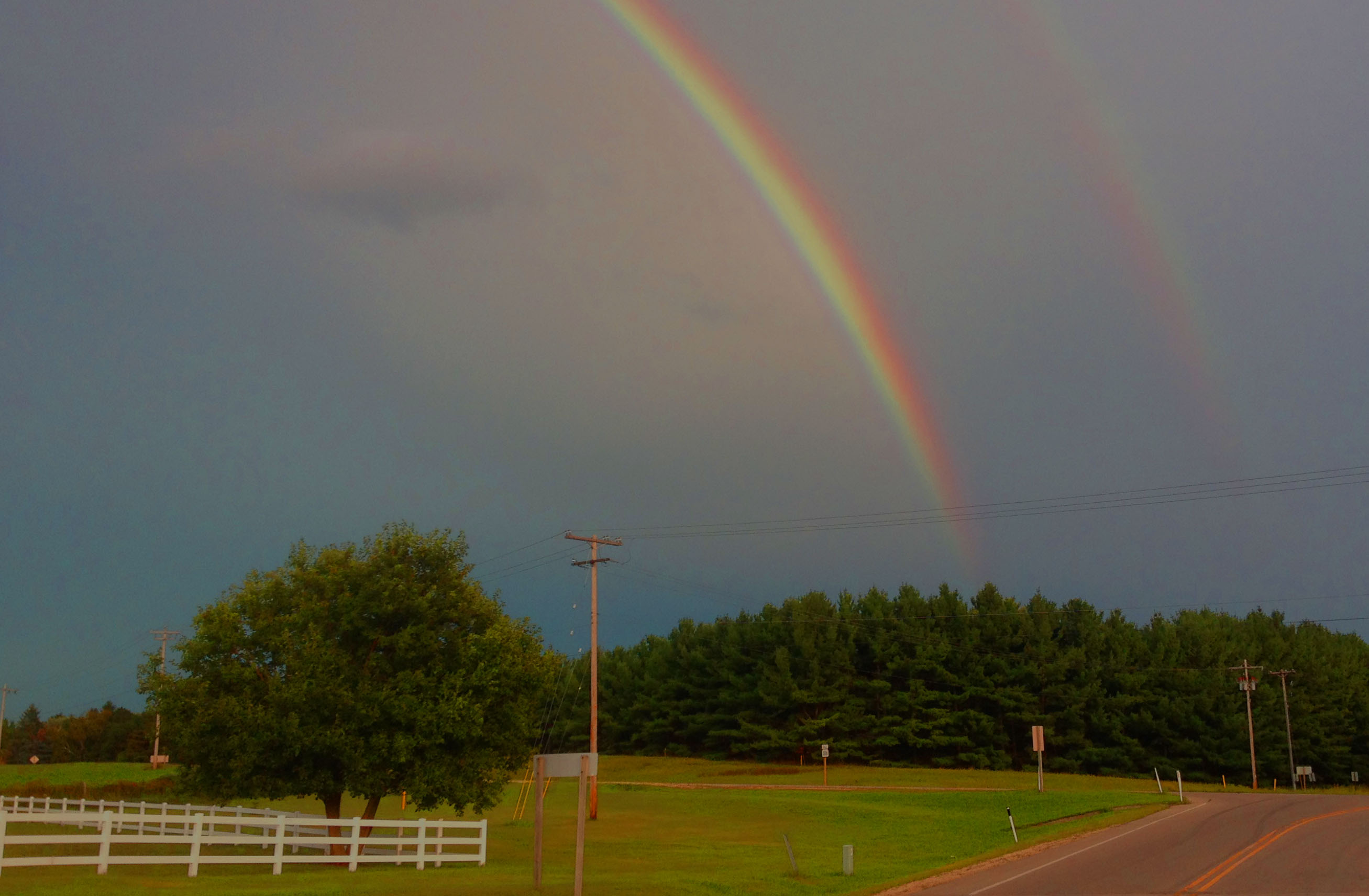 It has been a wonderful working holiday, giving the gals a chance to see another corner of the country and share the last bit of summer with friends new and old.  This Festival marks the beginning of the fall knitting season, and they have enjoyed getting a chance to see what folks in Wisconsin are eager to cast on for as they start thinking about cooler weather.
Next week, we'll be officially introducing our new sport weight 100% wool yarn; Mewesic.  The folks in Wisconsin received a sneak preview of the yarn we've been working on all summer, and they are thrilled with the beautiful new colors.
We'll be able to share more details of this yarn with you next week, so be sure to check back to be among the first to see what we have in store for you.